5 Reasons Why Your E-Commerce Company Needs Ratings & Reviews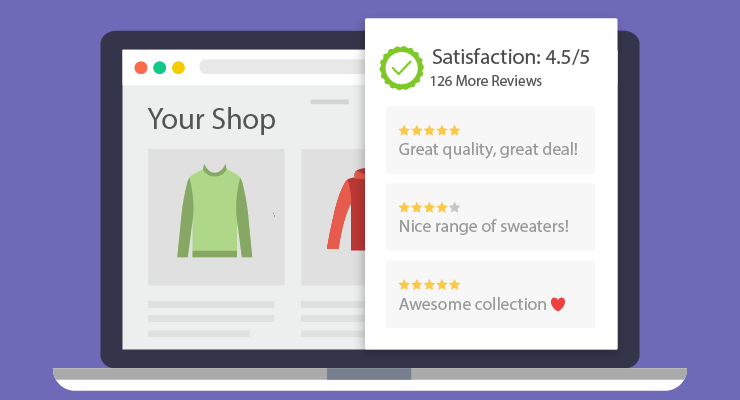 Take control of your reputation and utilize the power of social proof.
Consumers now, more than ever, are looking for ratings and reviews regarding the services and products of companies prior to making purchasing decisions.
Through online reviews, companies can help influence purchasing decisions by promoting and marketing customer feedback.
Especially since 92% of consumers now read online reviews, eCommerce businesses need to rethink their strategies for implementing the proper digital strategy in order to take advantage of the viral effects that customer reviews have.
Generating brand reputation and product value by aligning your feedback with your marketing strategies is the perfect way to convert visitors into loyal customers.
The collection of ratings and reviews can be used as an immensely powerful tool for your business.
This digital feedback acts as an incredible way to increase traffic, improve PPC, and build your online reputation while increasing the confidence of consumers.
Modern shoppers today are well-informed, influential, and expect to have their needs and wants to be met before making purchases.
Through social proof, companies can capture the powerful voices of their customers while surrounding their brand with positivity through efficient experience management.
As consumers become more influential in the future, eCommerce companies need to take advantage of ratings & reviews to start seeing the benefits.
Here are 5 reasons why your business needs to start collecting ratings & reviews.
1. Generate Trust
Today's shoppers trust the reviews of strangers more than they trust the advertisement from a company.
Valuable brands are taking notice of this trend and are capitalizing on the power of social proof by implementing review-centric marketing strategies.
Since consumers are greatly influenced by other people's experiences, it is important to collect feedback on the experiences of your past shoppers.
This will create a higher level of trust and value that is associated with your brand.
According to a 2016 study by Brightlocal, a survey found that "84% of consumers trust online reviews as much as they would a personal recommendation from a friend."
This statistic has increased every year since the survey has been conducted and shows no signs of slowing down.
It is undeniable that the impact of reviews on the performance of a company is great, and this is especially true for companies who are highly involved with eCommerce.
2. Strengthen Marketing Efforts
By taking advantage of your customer reviews & ratings, your business can monitor and improve brand awareness, reputation, and loyalty.
As digitization continues to evolve, traditional marketing and advertising strategies will have little impact on the purchasing decisions made by modern shoppers.
Through digital innovation, businesses are now able to connect with customers instantly.  
Conversations between brands and consumers will increasingly become more meaningful and valuable as consumers expectations continue to rise.
Generating conversations through digital word-of-mouth is extremely important for influencing and guiding purchasing decisions.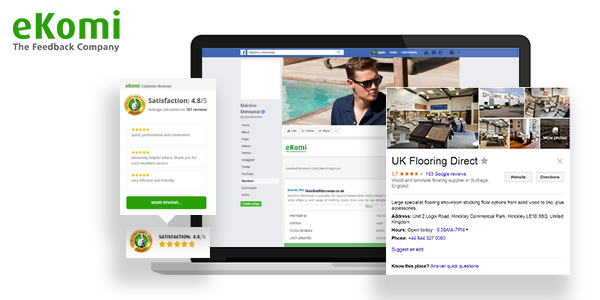 There are many ways to reap the benefits from ratings and reviews through marketing efforts.
A significant advantage of collecting customer reviews and ratings is simply gaining valuable insight into who your customers are and what their specific needs are.
By collecting this important data, businesses will be able to customize and personalize the customer journey across any touchpoint.
The better you know your customers, then the better original and unique content you can provide for them.
Collecting reviews and ratings enables you to gain insight into what user-generated content your audience prefers and provides search engine crawlers with the content needed to properly evaluate a website.
Also, this user-generated content tells the search engine that your site is active, and provides a valuable service to online customers and increases the relevance of your result.
By enhancing your online content through insight-driven data, you can set your website apart from your competitors.
3. To Drive More Revenue
The main goal of any business is to generate revenue by providing a product or service.
By collecting and publishing authentic customer feedback, businesses can help drive higher SEO, generate new customers, and increase sales.
A study by BrightLocal found that 74% of consumers stated that after seeing customer reviews about a product on a landing page, they were willing to take the next step in the customer journey.
Adding value to the customer journey will keep your customers satisfied and coming back for more.
Not only does providing an excellent experience to retain customers, but happy customers are more than likely going to share their positive experiences with others through word-of-mouth.
If your customers are satisfied with the experience and encouraged to leave feedback, you have a great opportunity to take advantage of the situation to develop new customers and earn more revenue.

4. Increase Visibility on Google
Google is extremely important for the collection and advertisement of customer reviews and ratings.
Through numerous platforms and services, Google has innovated the entire digital advertising industry with ease while enabling businesses to reach specific target audiences of millions of people.
Google also provides companies with the opportunity to customize business ads and highlight the most important aspects and information to encourage customers to visit their website.
Since Google provides the opportunity for businesses to showcase customer feedback as an average star rating alongside their ads, businesses are able to increase online visibility and enhance their trust with the customer.
Through both paid and organic search, Google seller ratings, product reviews, seller rating extensions, and rich snippet stars, the possibilities of reaching your target audience through Google are endless.
A Google study determined that seller rating extensions in AdWord Search ads can increase customer traffic, or click-through rates, up to 17%.
Some businesses that have used these extensions for a longer period of time saw only a 10% increase.
Regardless, statistics show that seller ratings improve advertising efforts, increase companies' online visibility, and enhance companies' trust with existing and new customers.

5. Optimize Strategy
By companies collecting feedback from customers, they are also collecting a vast amount of customer intelligence as well.
Through reviews, businesses can utilize this meaningful and useful information from their own customers to help create more effective strategies.
Gaining this personal insight into the customers' expectations and preferences will be tremendously valuable for companies looking to become customer-centric.
By integrating customer feedback into the brand and marketing strategies of your business, you will stay ahead of the competition and enhance experience management.
This article is written from one of our partners, eKomi, an expert in gathering customer ratings and reviews for online businesses. If you would like to know more about their solutions, please visit ekomi-us.com.