5 Ways Cohort Analysis Can Help You Grow Your E-Commerce Store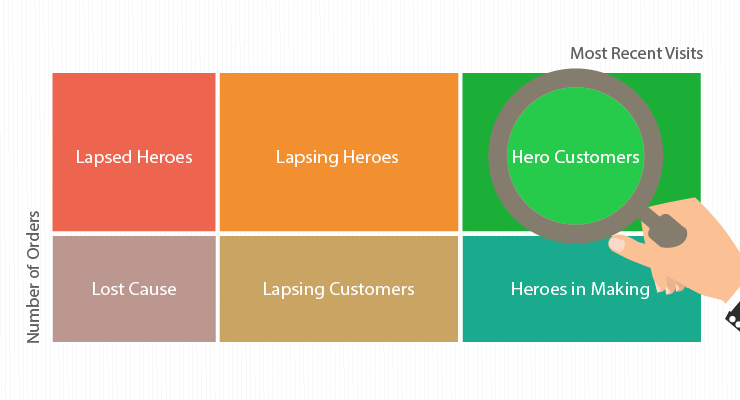 If you've only recently been made aware of cohort analysis, you might be wondering what it is exactly and is its relation to eCommerce.
The thing with eCommerce is that it's a bit of a dog-eat-dog world. There are so many eCommerce stores out there that no one even knows how many – "between 2 and 3 million" according to pipecandy – while 8 out of 10 eCommerce stores are said to fail.
That's a grim statistic, but the fine line between success and failure online often comes down to this in 2018: Knowing what your customers want.
This is something that a cohort analysis will help you with. In this article, I'm going to show you its importance in eCommerce and how you can use it. But first …
What is Cohort Analysis?
In eCommerce circles, a cohort is essentially a group of customers who are grouped together by a common characteristic that they've shared over a specific period of time.
For instance, it could be a group of customers who shopped with you in the last 12 months.
However, that's a really broad cohort. Here are more specific examples:
Paying customers in June

Customers acquired via Facebook ads

Trial signups this past month
So what we have here are groups of people who have taken the same action over a specific time period.
And this is what cohort analysis is in a nutshell – it takes a look at a group of customers who have, performed the same or similar activities. Thus, can be clubbed together in a cohort.
When you perform a cohort analysis, you're no longer looking at all of your customers together and treating them as though they were one.
Instead, you're breaking them down into different groups so that you can then form patterns and behavioural trends.
Once you've identified these patterns and trends, you can start targeting the right people with the right marketing campaigns.
As opposed to targeting everyone with the same campaign, which would ultimately fall on many deaf ears.
Cohort Analysis And its Role in eCommerce
Let's take a look at 5 ways you can apply cohort analysis to grow your eCommerce store.
1. To show you how fast you're converting leads into customers
I suppose the dream would be to convert leads into customers super fast. Sadly, it doesn't always work like that. But how quickly can you convert leads into customers? That's where cohort analysis come in.
For example, you could create a cohort on Google Analytics called "date of customers first visit," and check the "customers gained" metric before applying a time span of 12 months.
The graph helps to understand the total number of visitor on a given day and the percentage of people who have re-visited over the weeks.
The report will let you know how many customers you gained – month on month – from that initial cohort.
If conversions are slow, you can then use the information you've got from your cohort analysis to try to speed things up a bit. This would typically mean changing your marketing campaign. 
2. Helping you hold onto your customers 
Holding onto the customers you already have is important because customer retention can save you money over the long-term.
Studies have shown that loyal customers spend, on average, 67% more than new customers. And it costs a lot less to retain existing customers than it does to go out and find new ones all the time.
To find out how well your customer retention strategy is performing, group a cohort by the month (or even week) you first acquired them.
Then, assess how much revenue that cohort brought in over a 6 month period.
It might be a case that the groups spending habits spike during a particular month, and this might be down to a particular promotional campaign that you introduced at that time.
3. Get insights into what products work better than others
Cohort analysis carried out by first product ordered is a smart idea. Some products work better at creating loyal long-term customers than others.
Once you know what they are, you can focus on the best ones and ditch the under-performing ones.
For example, cohort analysis can show you the products that create one-time buyers. In which case, you don't need to keep them because it's returning buyers who are going to make you your money.
Some products are very good at generating long-term customer loyalty. Once you know what these products are, you can start to push them harder onto new customers.
4. Cohort analysis can give you an insight into whether or not you really need a loyalty program
Lots of eCommerce store owners are going crazy for loyalty programs at the moment, largely on the basis that – as mentioned earlier – it costs more to procure new customers than it does to retain already existing ones.
But do you really need a loyalty program? Cohort analysis can give you the answer.
Pro Tip: Cohort Analysis shows you how AOV and spending, change over time.
If the size of your orders doesn't change over a period of time, and if your AOV also doesn't drop, you're good – you don't need a loyalty program because those crucial repeat sales are flooding in regardless.
Customers are happy with whatever it is you're doing.
On the other hand, the numbers might change for the worse. In which case, an incentive like a loyalty program is a smart idea.
Now, let's imagine another scenario. Let's imagine that your AOV actually goes up as time passes.
What does this tell you?
It tells you that your first order is good and that you're doing a good job of building trust with your customers over time.
So what should you do? To capitalize on your ascending AOV, you could do a few things. I'd recommend double downing on social proof and run branding activities. Social proof gives your eCommerce store more credibility and encourages more sales.
What's key is that you get off to the right start with new customers and cohort analysis can give you insights into how to do just that.
5. Cohort analysis can give you a clear picture of your purchase funnel
In 2018, shoppers want an omnichannel shopping experience. This means they want to be able to browse online and buy offline whenever the time suits them.
There can be a number of reasons why a customer adds products to their shopping cart and then abandons it. 
Creating a cohort of customers viewing a product, abandoning their cart, dropping off during check out will help identify the problem they face at each stage of their purchase journey.
You could use this information to target each cohort with different tactics to increase your conversion rate. 
For e.g., If you have a cohort of customers dropping off due to a high shipping cost. You could implement a pop-up that appears each time a customer is about to abandon their cart. This pop-up might, for instance, offer free shipping to convince them to stay in the game.
Alternatively, you might want to install a point of sale card reader to test whether or not your lack of offline payment solution is the reason shoppers are abandoning their carts or dropping off during the checkout.
Cohort analysis is crucial to the success of your online store. It allows you to have an overall understanding of your customers and their individual behaviour.
You can leverage cohort analysis to channelize your efforts as you will obtain a deeper understanding of your customers' demands. Allowing you to make the right adjustments that will keep them happy.
Related Posts:
Google Analytics for E-Commerce: A Step-by-Step Guide
11 CRO Hacks That Will Boost Your eCommerce Sales