6 ways AI is revolutionizing e-commerce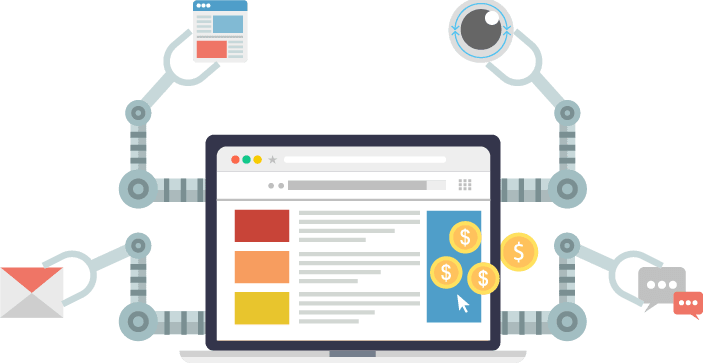 I open the Amazon App on my phone. Instead of searching for a product by typing in the search bar, I decided to use the image search.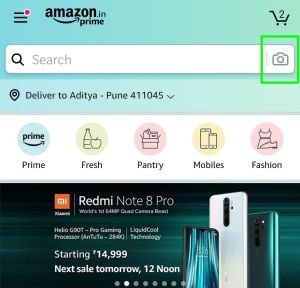 I am welcomed to the Image Search feature. I could search for a product or a barcode using my phone camera. Sounds great. Let's go ahead.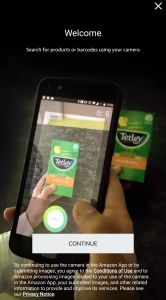 I was looking for a new notebook. So, I scanned my older one.
And boom! In less than 2 seconds, Amazon redirects me to the page of a similar notebook from the same brand. This is object recognition at work, an application of Artificial Intelligence provided by Amazon to its customers for a better shopping experience. 
E-commerce marketplaces are leveraging Artificial Intelligence to aid customers with superior experiences and for simplifying the various operations. 
Here are some ways AI is revolutionizing the e-commerce landscape, helping e-commerce marketplaces quickly grow and scale:
1. Optimizing warehouse operations
Amazon has over 175 fulfillment centers globally, where millions of orders are daily picked, packed and shipped to the buyers. 
Amazon uses 100,000 of flat, wheeled robots in these facilities to move and arrange packages. The robots ensure that products that can be grouped together are placed closer to each other for easy packing. 
Russell Allgor, chief scientist for Worldwide Operations at Amazon, explains that Computer Vision Systems analyze images to help securely track where everything is. This information is then used to minimize the distance robots have to travel. Decision logic and AI optimizations are used to make those decisions in real-time with new orders added every second. Machine Learning is used to compute how long does it take for an order to move from point A to point B. 
This is an example of how artificial intelligence is helping e-commerce aggregators, in this case, to deliver orders in just one day and even same-day for some locations.
2. Personalized recommendations for shoppers
E-commerce marketplaces take into account a number of parameters before making an apt product recommendation to a shopper. For example, Amazon's smart algorithms, before recommending a product to a customer, consider the following factors:
Products previously bought by the customer

Products previously rated (products the customer likes)

When does the customer buy a product

When does the customer rate a product

When does the customer like a product 
That's not all. Shopping activities and interests are compared to those of other customers. Any changes in the activities of other similar customers are also analyzed before making a product recommendation. 
Alibaba, the world's largest retailer and e-commerce company, uses an AI-powered algorithm called Tmall Smart Selection to recommend products to customers. 
AI-driven personal recommendations are helping e-commerce marketplaces engage their customers better.
3. Image recognition to aid product discovery
We had a look at object search by Amazon at the beginning of this story. E-commerce companies are quick to adopt this technology. It doesn't come across as a surprise when companies like Clarifai, Visenze, etc. are on the rise that can make extraordinary sense out of visual data. 
Myntra, an Indian fashion e-commerce company also provides an image search feature to its customers combined with voice search. Customers can even upload pictures from their galleries and the app displays products (or the closest, relevant matches) detected in the image (reverse image search engine). 
Amazon has added a similar feature called StyleSnap. Users can simply upload photographs of fashion looks and the app returns search results that match the items in the picture like apparel, fashion accessory, etc. Deep learning and computer vision behind the scenes makes it possible for the algorithms to detect sub-categories of items like fabric, fabric patterns, color, etc.  
Other popular e-commerce and e-commerce fashion companies using image recognition are Neiman Marcus, Alibaba, Rakuten, Zalora, eBay, H&M, ASOS, etc. 
An extension of image recognition technology is being used by Alibaba what is called Virtual Fitting Rooms. The feature, available on Taobao/Tmall app, gives virtual renders of customers wearing the selected fashion items after they upload a photo of themselves. Pretty smart, right?
Backed by deep learning and natural language processing, Tmall Smart Selection helps buyers with personalized recommendations. It also communicates to retailers, suggesting them to increase inventory for specific products to stay prepared for increasing demand. 
Understanding customer's behavior using Artificial Intelligence is helping e-commerce marketplaces simplify the shopping process for the end-users and provide an accurate degree of personalization. 
4. AI-driven advertising automation for Sellers
Hardcore product creators, especially small and medium businesses selling from online marketplaces, aren't known for their performance marketing skills. 
It may be unwise to assume they can create advertising campaigns from scratch on let's say Google Ads, and track these campaigns to optimize them. 
The focus of the marketplace merchants remains on their products and how they're selling from a marketplace. 
However, what if, Sellers can launch ad campaigns across channels with a single click, sit back and witness ads performing well, bringing in the amplified sales and desired ROIs? 
A Self-serve, white-labeled solution to help merchants effortlessly run product ads
OnlineSales.ai's Monetize stack is making this ambition come true for marketplace sellers using deep learning, natural language processing, and other AI approaches. The solution is already being used by well-known marketplaces and aggregator networks all around the world like Swiggy, Souq, Livingly, Maruti Suzuki, Haravan, Konga, Sendo, Daraz, Shopmatic, etc. 
To put it simply, the stack helps sellers run ads natively on the marketplace they're selling from, and on popular ad platforms of Google Ads, Facebook Ads, etc. without any knowledge of digital marketing. 
Driven by over 25 AI Optimizers working behind the scenes, the Monetize stack helps sellers run campaigns with a single-click while smart algorithms manage the complex advertising 'handiwork' like budget allocations across channels, audience targeting, ad creatives, ad placements, product feed syncs, etc.
Sellers get a combined interface for all the campaigns on various channels. They get to see various trends and graphs on how their ads are performing. Various optimizations of the ad campaigns are done 24-7, for example, budgets are constantly reallocated between channels to give back the best possible ROI to the sellers. Targeting keeps getting better for each ad, according to the audience's responses to the ads. Products that have gone out of the stock aren't promoted to avoid losses. 
Sellers can stay back and focus on their products and businesses while OnlineSales.ai's platform helps in generating more sales. 
The best part, sellers can do all of this from their marketplace panel. They don't need to move out of the platform they use to market their products. 
An effortless solution like OnlineSales.ai's Monetize stack can dramatically boost sales for the merchants, expanding the overall marketplace platform, while opening up a new revenue stream for a marketplace. It gives sellers access to the potential that exists in digital ads that were otherwise unharnessed. 
5. Chatbots
Chatbots are here to stay. The adoption is increasing, and customers are becoming more comfortable interacting with chatbots. A study by Business Insider shows 38% of people have positive opinions about chatbots. 
All the popular e-commerce marketplaces have adopted chatbots to decrease the workload on the support teams. However, the use of chatbots isn't just limited to easing the support load, they are also used to drive sales. 
A new study by DigitasLBi shows that 1 in 3 Americans are willing to purchase products with the help of a chatbot. Shoppers are open to using chatbots to receive product recommendations, trending product information, available or future discounts, etc. 
Natural Language Processing, a subfield of AI, is formative to chatbots. While text classifiers, artificial neural networks and Natural Language Understanding (NLU) are used to understand the input given by a user, Natural Language Generation (NLG) is used to generate a response that is both helpful and natural-sounding. 
Combined with home automation and Virtual Assistants, it's getting easier for people to buy online using chatbots. A trend that will only increase, AI chatbots will continue to assist e-commerce marketplaces in a big way. 
6. Complex problem-solving for e-commerce using AI
Flipkart, an Indian e-commerce company with 39.5% of Indian e-commerce market share, is using Machine Learning and AI to solve the tricky problem of inaccurate and inconsistently formatted addresses in India. 
India faces a unique problem of inconsistency in the address systems and the ways in which it is followed. It's difficult to correlate each address with geolocation affecting the delivery of orders.
This leads to late delivery, rerouting, and return of shipments affecting customer satisfaction while increasing the load on the logistics network. 
Data scientists at Flipkart devised an address classification system, using deep learning and machine learning, which has an accuracy rate of 98%. It's playing a pivotal role in ensuring timely order deliveries. 
Flipkart also uses Machine Learning to detect and eliminate fraudulent practices. For example, ML is used to identify and blacklist resellers who buy goods from Flipkart and sell them in the retail market. 
Flipkart's use of AI to solve complex problems is a great example of how AI is helping e-commerce companies improve their operations and provide flawless experiences to the customers. 
AI, e-commerce and the future
Last-mile delivery will get changed with robots replacing humans to deliver the products. Amazon is already testing its autonomous, self-driving delivery robot named Scout in Southern California. 

Apart from last-mile delivery, Artificial Intelligence will continue to assist the e-commerce businesses in the areas of the
customer experience,

customer relationship management,

personalization for the customers,

warehouse management,

advertising capabilities for sellers

website and app optimization,

f

raud detection,

business intelligence,

the hiring of employees, etc.
Artificial Intelligence is transforming the e-commerce aggregator platforms into their newer, smarter versions, leading to the growth of these platforms in unprecedented ways. It was difficult to think of this in 1994 when Amazon was first launched. 
Do let us know your thoughts via comments on Artificial Intelligence shaping the e-commerce world. Get in touch with us to learn more about OnlineSales.ai's solutions for online marketplaces and aggregator networks.