Google Rolls Out Campaign Groups and Performance Targets for AdWords

Google has always been the first choice for business, when it comes to digital marketing. It has been the best source to make your business reach out to the right set of audience within a short period of time, efficiently through Google AdWords. AdWords provides powerful tools to help advertisers grow their business and is constantly busy rolling out new ways to reach out to audiences within a business target cost.
This time, Google has rolled out another feature that's intended to make it easier for the advertisers to track and forecast the performance of their marketing campaigns, through Campaign Groups and Performance Targets. Google is envisioning marketers using this grouping to track marketing themes across their network of ad opportunities. This basically helps in identifying the best mix of campaigns that should be run, to get a performance aligned to your business goals.
What are Campaign Groups?
Campaign Groups are a set of campaigns that share a common theme (typically, common performance indicators).
E.g.:- If You want to launch some campaigns for festive season, you can launch video, search, display campaign etc and then club them under one campaign group, let's say "Festive_Season".
Also, against this campaign group we can set a Performance Target that allows us to monitor and forecast our campaign group's overall performance, so we know how successfully these campaigns are meeting our advertising goals.
What are Performance Targets?
Every Business needs may differ, according to the stage the business is in. If it's a mature business, the Performance Targets could be around bringing in Conversions at a better Cost. If it's a start-up, it might be looking to reach out to new users and drive more relevant traffic thus trying to get more clicks at a better cost. The Performance Targets feature improves on your ability within AdWords to set goals and track clicks and conversions by Campaign Groups.
Performance Targets can be set around 2 areas of focus:-
Clicks
Conversions
Once we set our Performance Targets and date range, AdWords can estimate whether we're on track to meet our goals. If it looks like you won't reach the targets you set, you can adjust your campaign's settings to improve performance.
How To Setup?
Campaign Groups is accessible from the left sidebar in AdWords. The set up is simple, and it's possible to set up multiple Groups with distinct targets. After adding campaigns to a group, advertisers can choose to monitor performance based on either clicks or conversions goals and set specific targets for metrics such as spend, total clicks or conversions, and average CPC or CPA. All that is required is the how many clicks or conversions you want to receive, how much you want to spend, and what average CPC or CPA you wish to maintain.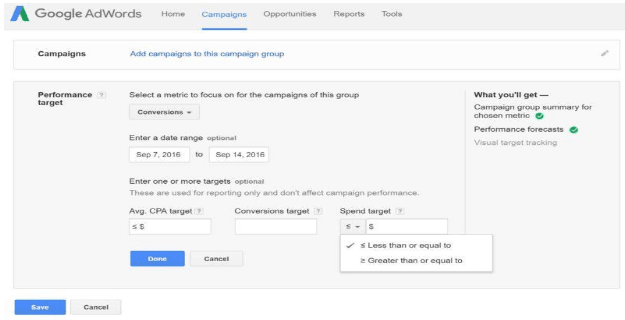 AdWords will then automatically show you a single view of how your campaign group is performing against those goals, and what we think you'll likely achieve by the end of the campaign period.
Let's understand this with the help of an example:-
Suppose PQR is an apparel client new to the market.
It approaches Mr. X (a renowned digital marketer) to handle its Google Marketing & gives it a budget of Rs. 10,00,000 for the month
Now Mr X has two major goals to achieve
To create brand awareness and get more traffic to his client's website .

To drive transactions at a desired cost.
In Order to Achieve the same Mr. X can launch Multiple campaigns in 2 different Campaign Groups, let's Say A & B.
A. To create brand awareness
Mr X launches display campaigns with an overall budget of Rs 5,00,000. He creates a campaign group and sets a goal of 50,000 clicks with a cost per click of Rs. 10.
B. To drive transactions
Mr X launches non- brand search campaigns with an overall budget of Rs. 4,00,000 for the month and creates a campaign group with a goal of 800 transactions at a cost per transaction of Rs 500.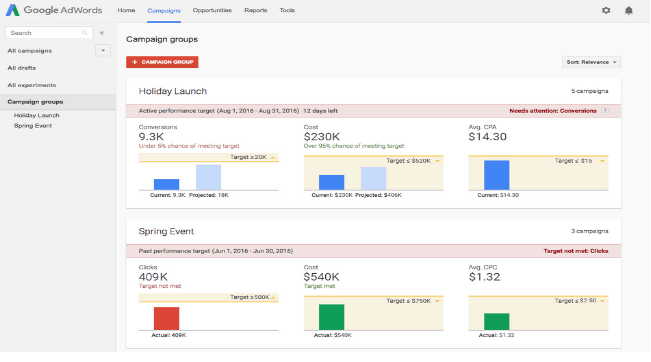 Mr X visits the Campaign Groups tab at regular intervals to check the performance of both his Campaign Groups. Using the information provided by the AdWords tab, he is aware of the amount of spend incurred in group A and corresponding clicks garnered in the decided period. He also understands that at the current rate he will comfortably meet the clicks target that he had set for himself for the entire month.
One fine day,  Mr X finds out that his campaign group B is not garnering the necessary amount of daily transactions as per the goals set and foresees that he won't be able to meet his goals at the current rate. He makes a few changes in order to optimise the account. After the changes are reflected, his campaigns start performing as per the desired goals and Mr X is happy!
In this way, using the Campaign Groups dashboard Mr. X can foresee the performance of his campaigns and make necessary changes to them. This way he is on track with his goals and keeps his client satisfied.
How does it make your work easy?
The best thing about this feature is that you get to know the status of your campaigns in a single shot. The Performance Target's status is AdWords' best estimate of whether we're on track to successfully meet our target. It can be found on the right of the performance target summary card in your campaign group's "Overview" tab or in the "Status" column in the "Performance Target" tab.
The status columns in Performance Target tab shows, whether the performance of our campaigns is On-Track or does it Needs Attention. It also shows if the TARGETS ARE MET or NOT.

This helps in saving a lot of time and manual efforts in exporting campaign report to a spreadsheet, grouping them and then pivoting to see the overall performance of a specific set of campaigns. With Campaign Groups & Performance Targets, we can much more easily see how our groups are performing relative to our goals, all from within the AdWords interface.
This feature will not alter how Google serves your ads or optimise your campaigns, but simply offers advertisers better evaluation tools.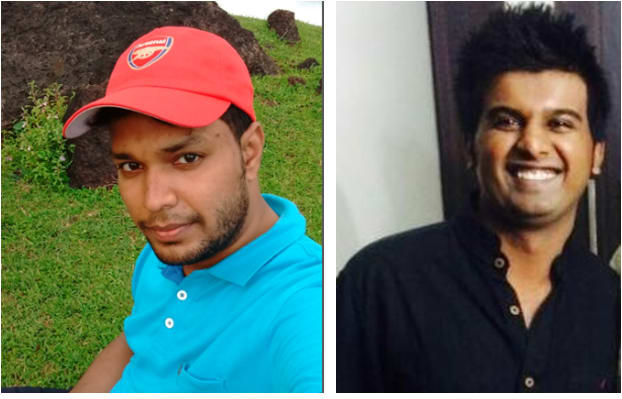 Authored by: Kapil Agarwal | Sr. Business Analyst & Gaurav Chaudhary | Business Analyst
Are you having trouble with Google AdWords? Run our free, 65 point automated performance audit of your GMC and AdWords accounts here.