Current E-Commerce Advertising Trends You Should Adopt!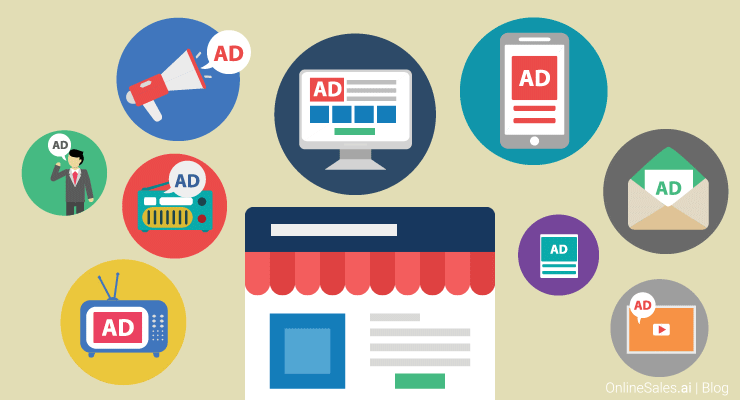 E-Commerce Advertising trends are the general direction of where the industry is heading, and trends can vary in length from short to intermediate, to long term.
In this article we're going to focus more on Long-Term E-Commerce Advertising Trends which usually are higher rewarding when implemented correctly.
Every year there are new E-Commerce Advertising Trends, it's important businesses and E-Tailers to identify and adopt these Trends to reach out to a bigger audience.
Marketers who adopt these Advertising Trends stay ahead of the curve by focusing on long-term industry trends instead of hot ad tech innovations.
Let's dive into the Current E-Commerce Advertising Trends that are bound to change the way users interact with advertisements:

Touted as the future of Ad buying, this trend is gaining some serious momentum. Programmatic Advertising helps to automate the decision-making process for buying advertisements.
Programmatic advertising aims to eliminate human errors that plague Ads, therefore making the whole Ad buying process efficient. It achieves the former by targeting specific audiences and demographics.
By reducing the workforce required in the process, it also reduces operational costs. According to eMarketer, Programmatic Advertising is expected to make 25% of the total revenue in the digital advertising Industry.
There have been problems implementing it on mobile devices due to its heavy dependency on tracking cookies.
Once it overcomes that hurdle, major E-Commerce companies are bound to follow automating Ad buying process on a large scale.
As mentioned below Advertising Trends are short to intermediate, to long term. This definitely being the latter.
2. Beacon Advertising

You would have to be living under a rock, if you have not heard about beacons. But, just in case if you haven't, we are here to guide you through the process.

Beacons are small wireless devices that transmit continuous radio signal which is detectable by smartphones. Beacons use Bluetooth connections to broadcast messages. They work on the principle of targeted advertising. Let's give you an example of how Beacon Advertising works-
Suppose you are walking by your favorite gaming store and they are having a sale on PS4 gaming titles. There is a beacon placed beside the PS4 titles rack that alerts you about the sale when you walk by.
It also sends promotional offers directly to your smartphone. This way the user gets more engaged with the product and walks out satisfied.
Apple has already launched their iBeacon technology that is integrated within their latest products and it's being used widely in the US by retail chains.

InMarket has released some statistics about the usage of beacons that show that –
For shops that have a physical as well as an online presence, beacons are proven to boost the website traffic and strengthen the customer relationship with the vendor.

Google has also released their own beacon protocol 'Eddystone' to compete with iBeacon, now it's up to the businesses to use either one of them depending on the demography of their users.

Social networking has become an integral part of our everyday life. We've embraced social networking platforms such as Facebook, Twitter, Instagram and Snapchat, to name a few, with open arms.
A recent study concluded that an average user spend around 106 minutes socializing over the internet. Studies have also shown that we spend 28% of our time over the internet on social networking sites.
Digital Advertising companies have been quick to notice this trend and many E-Commerce platforms have adopted social media as the medium to advertise their content.

Facebook ads are cheaper and have a higher click-through rates than normal web ads. Snapchat, the newest entry in the world of social networking is also slowly being discovered by marketers as a potential platform for advertisement.
Fashion retailer H&M used Snapchat to promote their online presence and gained over 943 Snapchat followers, while engaging over 3.8 million users throughout the length of their campaign. In the 1st week of May, Target and Lancome became the first company to rollout e-commerce ads on Snapchat.
With eMarketer predicting that social media ad spending will reach $35.98 billion in 2017 and will make up 16% of all global digital ad expenditure, one cannot neglect how important social media advertisements are for the online businesses to thrive.
4. VR Advertising

Virtual reality is finally gaining momentum. With an overall positive feedback from masses and numerous VR headsets lined-up for launch, Virtual Reality is upon us sooner than we expected.
Oculus Rift has already hit the stores in March this year. Samsung is already shipping out Gear VR headsets with their flagship devices. And with Google Cardboard providing a cheaper alternative to a VR headset, VR Ads seem like the perfect platform for the e-commerce companies to showcase their products. VR advertising allows companies to make the advertising process more immersive and interactive.
Virtual Reality Ads could also provide a solution to Ad blockers. Being an Adtech company, we at OnlineSales.ai know how annoying ad blockers can be for the business.
Adopting VR Ads can result in a reduced usage of Ad blockers, after all who doesn't enjoy a little virtual experience?
VirtualSKY, a VR advertising company has already taken the first step towards revolutionizing the Ads.
They have developed a platform that allows advertisers to deliver immersive 360 degree advertisements to the consumers using VR headsets as well as smartphones.
They have realized the potential of VR Ads and are practically ahead of the curve.
5. Buy Buttons

Pinterest, Facebook, Twitter, Instagram and Youtube all have one thing in common, can you guess what that is? They have all adopted the use of Buy Buttons.
Though they are still in their testing phase, buy buttons have shown immense promise and are being considered an emerging trend in the E-Commerce sector.
On the other hand, Buy buttons have been laid back when it comes to its marketing. It's being slowly rolled out without generating much buzz in the press.
Buy buttons were invented with the sole purpose of accelerating the buying process while surfing over the internet, with a touch of a button.
Pinterest's implementation of buy buttons has been successful, but it lacks when it comes to the availability of the products. That way, most buyable pins are out of stock.
In spite of the slow adoption rate, with mobile advertising picking up pace every year, buy buttons are in the run to change the e-commerce sector.
Maybe this is the year, when we see buy buttons being adopted and used on a large scale. We'll just have to wait and watch!

According to eMarketer, the number of smartphone users worldwide will exceed 2 billion by the end of 2016. With the e-commerce companies heavily relying on mobile users, and with a consumer base that is growing by the minute, we doubt Mobile Advertising will be outdated any time soon.
Mobile Advertisements aren't new they have been a part of the digital marketing industry since the inception of smartphones.
With Google releasing the 'Mobilegeddon', algorithm that forces the google search engine to boost the page rankings of mobile friendly websites, it's a dead giveaway that Mobile will continue to dominate the market.
This stresses on the fact, that mobile advertising will continue to be a Advertising trend in the Industry.

Further Reading:  What's Next in the Mobile Retail Revenue World.
7. Video Advertising


We can all agree on the fact that Video Ads on YouTube are annoying for a user. Now, what if we told you the statistics say otherwise?
Let me give you 3 facts that show video ads have been positively accepted by the internet users unknowingly.

Source: Rhythm OneInsights.
Source: ComScore.

Video Ads have been successful in engaging the users, whether we like them or not! Especially after the launch of TruView ad format by Google.
This digital video ad spending is expected to double-up in the next 4 years. We are expecting an outburst of video ads over the internet.
8. Native Advertising


Let me take you through a common scenario, to start off with this one –
You are going through your Facebook feed and you come across a video that is playing automatically, thanks to the video auto play feature.
Now you don't remember following that particular page, so you start wondering how did that post stumble into your Facebook feed, only to later realize that it was a sponsored advertisement.

That is what makes native advertising so effective. It blends in perfectly with the user interface of an application making it difficult to distinguish between a post and advertisement. Native Ads are also a clever way to trick the ad blockers.
That's the reason more and more e-commerce companies have started to adopt native advertisement. People view native ads 53% more than banner ads, because it presents to them a unified view unlike traditional ads.
Native advertisements are widely accepted by the users and have been successful in achieving higher click impressions. Native Ads could possibly go on to be the most successful form of advertising. It's time you started incorporating them into your ads, if you haven't already!
Final Thoughts
Digital advertising is evolving at a brisk pace. If you are someone who owns an E-Commerce website or planning to start an online business, try out the type of Advertising Trends that I've mentioned above.
Indian E-Commerce seems to be shifting towards cashless modes of transaction as a preference, especially since the demonetization decision in November 2016.
That brings our list of Current E-Commerce Advertising Trends to a wrap.
We'd love to know what works best for you or what you think are current trends advertisers should be aware.
UPDATE
We've made another Industry First Report on E-Commerce Trends in India. This extensive report gives insights on Finding the Pulse of India's E-Commerce Habits.


Our E-Commerce champs at OnlineSales.ai are of course here to help! Our 65+ Check-Point GMC & AdWords Shopping Audit Is Now Free, and we'll send you immediate recommendations to help multiply your conversions and revenue. Start Shopping Audit Now!