Custom Reporting for Ad Creatives, Devices & App Installs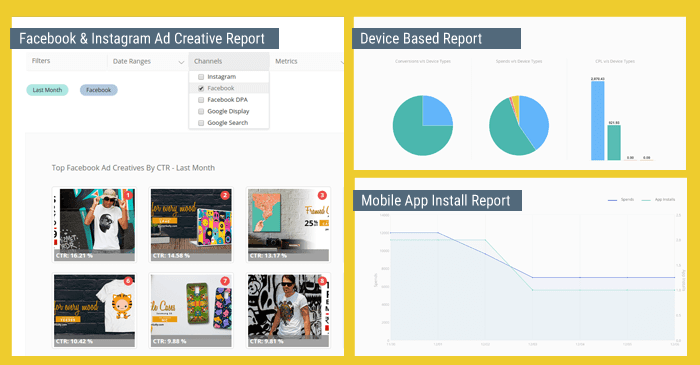 Custom Reporting for Ad Creatives, Devices & App Installs
Canned Reports help you figure out new insights from slicing & dicing data across multiple dimensions & matrices. You can select the date range, the ad channels, dimensions & matrices & our system fetches analytics for all such ad creatives, devices & App installs ( if selected ).
Ad Creatives Report.

 This report showcases top 10 performing ad creatives in decreasing order of click through rates. You can now preview the actual creative, view the audience it is targeted for & analyze ad spend, impressions, spend & conversions all in 1 single report!

Device Level Report.

 This report will give a device level split across conversions, spend & cost per conversions for all the different channels like Facebook, Google etc. The device level report is really handy if you wish to cut down or increase bids & visibility across certain devices that have high conversion rates.

Mobile App Install Reports. 

This report helps you identify your daily spend run rate specific to app installs for all the active channels vs actual user app installs for that channel. This gives you a clear insight to increase or decrease spend across different app install campaigns to reach your business goals.
These reports are designed to be simple & convey powerful account information that will help you optimize your marketing campaigns to a new level. Try these reports out today!