Database Selection and Scaling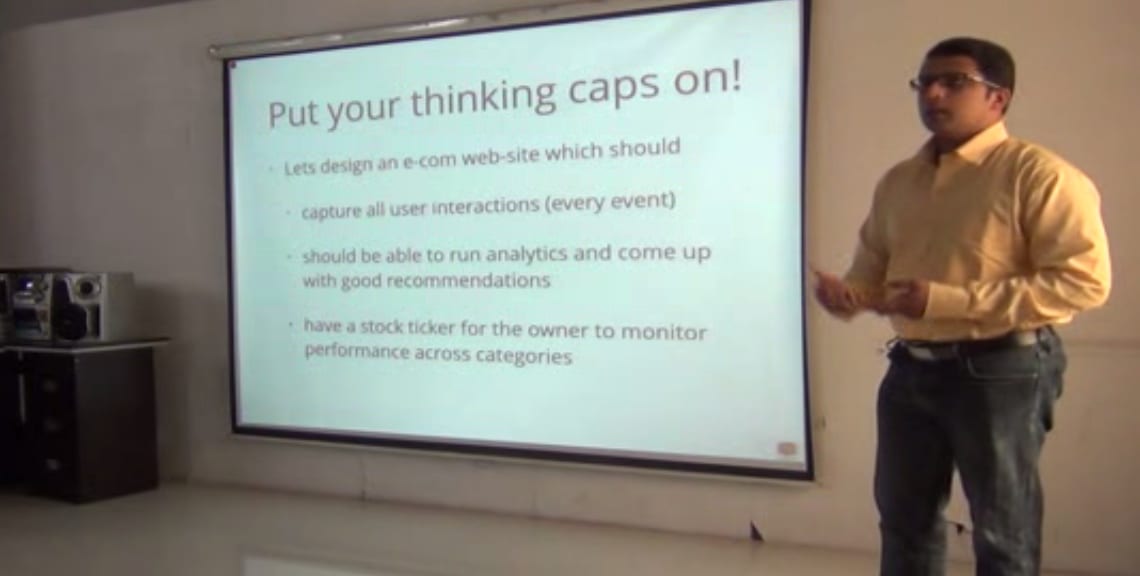 At OnlineSales.ai, we just love tech talks and discussions with like-minded folks, from startups and otherwise. We started a tradition of hosting technical talks every Wednesday evening and it has been going strong for a few years now. We are always rooting for an open forum in Pune for developers and subject experts to come together and exchange ideas. The recently launched 'OnlineSales.ai Tech Speaker Series' is a logical culmination of the internal tech talk event, to spread knowledge and interact about technology and software with anyone willing to participate.
During our sixth chapter of this initiative to promote active tech discussions, we recently hosted the latest TechNext meetup at our office. TechNext meetup started in 2011, and has been growing into one of the most-attended meetups in Pune.
The chapter hosted at OnlineSales.ai was on scaling architecture for the web, especially the database component; a topic dearest to every developer and software architect.
Sokrati's backend architecture has gone through multiple evolutions starting from a single MySql instance with application querying the database directly, to the very recent 'data warehouse as a service' avatar. All along this journey, we have accumulated a lot of knowledge on NoSql and RDBMS databases, sharding, queuing system and every other component of a stack for web applications. Kaushik, our CTO, has been an integral part of this journey and has shaped most of the ideas implemented here. Kaushik delivered this talk to a packed house of passionate developers from other companies attending through TechNext, along with our own engineers.
The talk was very well received and was followed by a highly interactive question and answer session. The attendees had a lot of questions as well as suggestions on every component of the web stack covered in the talk, be it the selection of the right NoSql database or whys and hows of a queuing system. We were happy that a few attendees even continued the discussion well past the stipulated time with very pointed and engaging questions.
Kaushik's slide deck from the talk is shared on slideshare. We will be hosting many more of these tech talks under OnlineSales.ai Tech Speaker series in the forthcoming months, covering even more diverse technologies and application domains. Some of the upcoming talk topics in the pipeline include server side javascript/Node.js, machine learning using R/Python ecosystem and Product Management, just to name a few.
Keep in touch on our social pages to never miss our events!