E-Commerce Startups: Are You Making These 8 Disastrous Mistakes?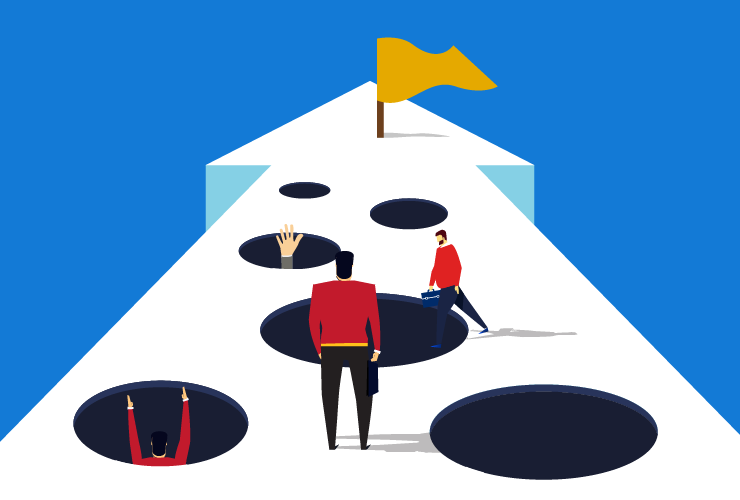 Updated: 5th February, 2019
1995: "I want to invest in a business!"
2018: "I want to launch my own startup!"
The word 'startup' has truly gained a cult status in India over the past few years. It's for good reason that web-series like 'Silicon Valley' and 'TVF Pitchers' struck a chord with the youth.
Contrary to social media and e-publishers celebrating a bombardment of news stories and web-series showcasing a glamorous run for startups, the ground reality is very different.
The Indian startup scenario remains that only a few end in quick exits and million dollar acquisitions. When it comes to digital startups, most of the novice businesses that stand or sink tend to be predominantly from the E-Commerce industry.
According to a study by IBM in 2017, 90% of the Indian start-ups fail within 5 years of conception.
This fast-paced industry has its shares of challenges and pitfalls, right from selling products to the wrong persona, to not paying enough attention to its HR policies.
Here are the Top 8 reasons why a lot of E-Commerce businesses in India register slow growth rates, or worse, cease operations within a few early years of starting shop.
The Need for Innovation
'Make sure your business idea is unique and innovative. If not, then make sure you're doing something better than the existing players' is the core mantra of the business world. Doing the same things as your closest competitors won't attract you new customers, nor your competitors' most loyal customers.
Adrian Gahlot, one of our seasoned Business Analysts says, "Lots of new guys in the E-Commerce sector sell products which they have no expertise around. Be an expert in what you sell. For example, when you buy headphones from a Flipkart or a HeadphoneZone, you know the difference across the buying experience.
Flipkart hardly provides enough product information, while HeadphoneZone provides detailed technical specifications along with a guided buying guide, which makes shopping there a more wholesome experience."
How to avoid this pitfall:
Know your hero category inside out. First understand what you're trying to sell and whom you're trying to sell it to. Sell the product(s) on your site only if you know that there's a void, and hence a demand for it in the industry, and not just because it's a lucrative business and everyone is doing it.
The Perils of Ambition and Ambiguity
Instead of focusing on their core operations right from the early stages, online retail houses tend to focus on everything but their core business. Acquisitions and takeovers are often unplanned and become underproductive, with lack of proactive direction. Remember how Snapdeal, during an acquisition spree acquired GoJavas (a logistics firm) and FreeCharge (a payment merchant), and failed to integrate these businesses well within Snapdeal's own ecosystem? At a time when E-Commerce companies are running on losses in order to survive cut-throat competition, such poorly-thought out acquisitions add fuel to the fire.
How to avoid this pitfall:
Hunt for investors, acquisitions and partnerships only when you are ready for wider, more wholesome growth, and after planning deep integrations in your ecosystem. Consider outsourcing services that you have no expertise or knowledge about. Execute a growth plan with a structure to expect efficiency and long-term success.
Raising Strong Sellers
In their quest to focus on customers, online marketplaces often tend to ignore their sellers. Successful marketplaces around the world run almost entirely by the efficiency of its sellers. Sellers often complain about poor management and engagement from marketplaces in India, propelling them to turn to sites like eBay and Amazon, both known around the globe for their excellent Seller record.
Events like OnePlus Co-Founder openly calling out on Flipkart for claiming to offer the Amazon-exclusive OnePlus3 for under ₹20,000 doesn't help a Flipkart's reputation will sellers either.
How to avoid this pitfall:
Don't direct all your engagement services only to your customers. Treat your seller like you'd treat your customers. Seller experience can make or mar your marketplace impression. Remember that one bad seller experience can prevent hundreds of potential sellers from selling on your Marketplace, not to mention the bane of a bad review from a customer in the process.
Quality Control is not Optional
You're not going to set yourself up for success if your goal is just to acquire a transaction from a customer. E-Commerce (or any other business for that matter) thrives only if the customer continues to be satisfied with your products and comes back time and again. Engaging with your customers is as important as selling to them. Odd cases like customers receiving bricks inside cellphone boxes are just the tip of an iceberg when it comes to retailers without any quality control.
How to avoid this pitfall:
As mentioned on point (3), you need to focus on your sellers too. Sometimes, sellers notoriously sell products of inferior quality to the customers against heavy discounts. You can start by investing in an efficient SaaS OMS system to keep track on the product life cycle. You could consider outsourcing the allied services like Customer Support, Tech Support, Inventory Management, etc., so that you can turn your focus on quality control, especially during the early stages of your business.
Misplacing Priorities
Imagine you're buying yourself a bar of chocolate. What would you ask yourself at the store? — A) How it tastes and how much it costs? Or B) Is it made in India or not? You'd pick Option A, right?
Well, few E-Commerce business owners would like you to think otherwise. At a time when American bigwigs like Amazon and Uber were growing at excellent rates in India, their Indian counterparts' founders talked extensively about the 'Indianness' of their companies and requested favorable policies from the Indian Government to battle their 'foreign' rivals.
Wondering why such outlooks can be harmful to your business, so much so that it can stop your growth altogether? Well, statistics prove that narrowed outlooks tend to lower your investors' confidence in you.
How to avoid this pitfall:
Your customer cares only about three things from you — quality, pricing and service. Master these 3 elements and you'll achieve long-term growth. Don't prioritize other practices which could hamper your investor's and customer's confidence in your brand.
(Please) spend a lot of time building your UI and UX
While one continues to criticize the dull Amazon UI, there is no doubt that it is built with incredibly efficient functionalities (read strong back-end support). On the other hand, Indian sites while being really attractive, report a lot of lags and bugs, thus ruining the shopping experience for the customer.
How to avoid this pitfall:
Just one critical tip — listen to your customer. Listen to their suggestions and grievances about your app/site experience. Feedback surveys or behavior tracking can be used to analyse how happy your customer really is.
Your Team is Your Primary Stakeholder
"People are not your most important assets, the right people are", says Gowri Shankar from Merkle-Sokrati's Human Resources team. He revealed what kind of HR practices spell doom for E-Commerce stores:
There are two aspects to Human Resources — Talent Acquisition and Talent Retention. Many a times, E-Commerce stores focus only on Talent Acquisition, which is actually the easier part. Talent Retention is what determines how motivated your employees really are, which in turn determines their productivity and loyalty towards your brand. This brings us to question whether your employees are reactive vs. being proactive.
Offering huge hikes to someone thinking of leaving your company is a temporary fix (i.e. being reactive), whereas providing adequate monetary as well as non-monetary benefits to your employees would ensure he/she doesn't have to consider a job shift at all, and they are driven together towards your defined company goals (i.e. being proactive).
Finally, another important factor which E-Commerce businesses ignore when it comes to HR practices is ironically, the 'human' part! No amount of talent or skills mentioned in your hire's résumé would make him/her deliver if he/she isn't the right fit for your company's values and culture.
You'll be just fine if your candidate possesses only 90% of the required skills, but a learning attitude and easy adaption to a positive work culture are not negotiable. To all E-Commerce businesses I'd like to say — hire attitude and train skill — make that your mantra. The other way around just won't work!"
How to avoid this pitfall:
As an E-Commerce business owner, it's tempting to completely overlook employee affairs and focus instead on sales. Be aware and build a smart and experienced HR team and let them handle talent while you scale.
Marketing Woes 101
E-Commerce Marketing looks simplistic from afar — You showcase a great product to people on Facebook and they'll definitely make a purchase as soon as it catches their eye? We really wouldn't be here if a transaction came that easy.
E-Commerce requires a relentlessly strategic, volume-based marketing game plan to takeoff and thrive. Don't let the unapologetically long flurry of jargon like Analytics, SEO, PPC, Shopping, Remarketing, Engagement throw you off your idea.
Even though speed is the name of the game in E-Commerce, getting relevant channels right is more vital than spreading your budgets thin across all media to reach and keep your ideal customer.
If you are bootstrapped and have a minimal marketing budget, scaling would be a serious challenge sooner than later.
How to avoid this pitfall:
It's essential for E-Commerce stores to find growth partners to scale marketing campaigns, so that you can continue to focus on the core of your business.
Online Retail Marketing can be ruthlessly competitive and multi-dimensional, demanding a large team of experts or better still, marketing automation.
Fill your funnel continuously — right from brand discovery to customer loyalty, it's your performance strategy that'll either drive or break your ROI inflow. Choose a growth investor carefully, and have them commit their funds to your vision, and not just to your business plan.
There's really no harm in aiming to be the next eBay or Amazon. However, the trick is not to overlook the fact that these corporations were pioneers and started building their product categories and presence over two decades ago.
Read up on them, there's enough lit available on how their early detection of failures led to unparalleled success.
They steadily created layers of infrastructure and logistics, hired the right people, and continually proved to new-to-the-internet hesitant online buyers that they're in good hands, and getting them slowly but surely habituated to a convenient alternative to traditional brick-and-mortar stores.
Identify and acknowledge loose ends in time to keep your startup from the brink. E-Commerce startups may be twenty to a dozen here, but there's clearly an enormous scope to create bold, reliable, valued brands.
With a curious and digital-ready market like India where disposable incomes are growing by the day, the scope of opportunities is promising and quite frankly, limitless.
The E-Commerce industry in India is estimated to grow by 1200% to $200 billion by 2026.
A piece of the pie is yours for the taking, granted you focus on your policies, differentiators and strategies, instead of losing sleep over competitors or chasing under-planned sales.
If you've tried once and not succeeded, build bridges with your learnings. Tell us your story and we'd love to learn from you!
Related Posts:
Here's Why AI in Performance Marketing is Here to Scale