Your eCommerce Store's Golden Ticket : The Power of In site Search Visitors & Targeting Strategies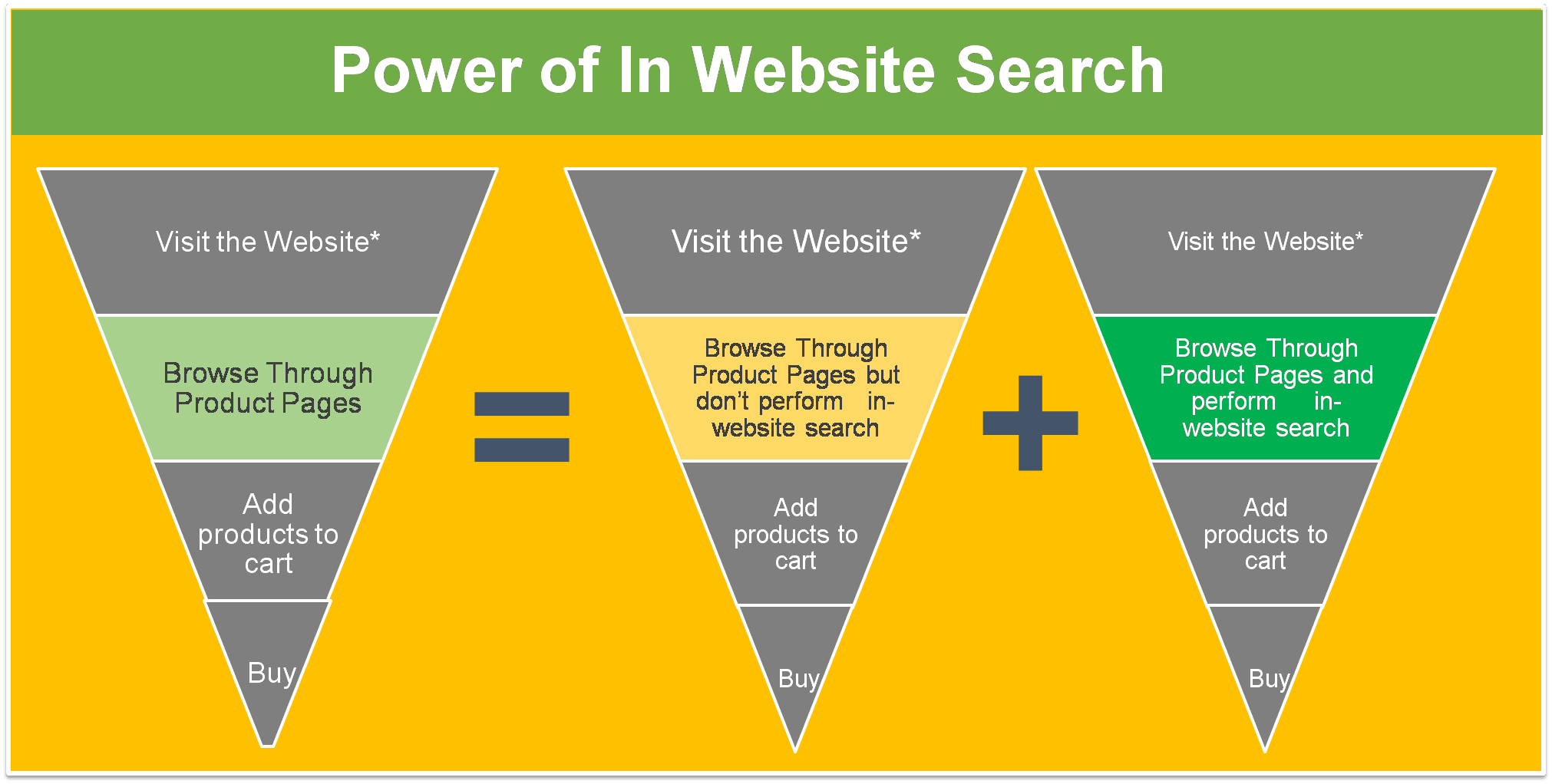 In the last few years, eCommerce websites have used a barrage of marketing strategies on paid and organic fronts to capture more visitors to their website. Be it top of the funnel awareness visitors to mid & bottom level remarketing strategies to existing users. All these coupled with content marketing, affiliates, social growth hacks & more have contributed to the influx of new visitors. Now even with tons of CRO (Conversion Rate optimization) techniques like Hello Bars, Exit Pop-Ups and Push Notifications, the conversion rates to actual transactions from visitors has still been poor. What's more, ambitious scale-up plans across channels, compromising on traffic quality has further demeaned the conversion rates.
Today we're tackling this conversion optimization process through data. Rather than just flooding websites with traffic and hoping they will convert, we're going to use website data to identify site visitor clusters who have a higher affinity towards buying. A website's in site search query data is what we'll be exploring in depth. Every day there are thousands of site visitors who make site searchers on the website to land up on product pages & make the purchase. In today's data-driven insight, we'll discuss why targeting this audience cluster is so important.
In a series of big data crunching and experiments we've noticed a pattern where conversion rates for users who have performed in site searches are much higher & their cart size is significantly larger.
Who are really contributing to my website's revenue base?
We've clustered our site data into the following verticals & have found some really insightful data across several geographies:
For FMCG eCommerce, in site search visitors are 27% of overall visitors. These 27% of visitors contribute to 64% (2/3rd) of the overall transactions! The conversion rates for in site search visitors are a whooping 5.5X times that of normal visitors.

For Electronics eCommerce, just 15% of all traffic were in site search visitors who contributed to 40% of the total purchases, with a conversion rate of 4X that of normal visitors.

For Jewellery eCommerce, only 4% of the visitors performed a search query on the site, and they contributed to 1/5th of the total revenue pie, with a conversion rate of 8.5X. Also, the average order value for these in site search visitors were 1.55X of that of normal visitors.
What about Engagement?
Now that we've captured your attention that insite search visitors are the creme de la creme of your website traffic, we also have some encouraging numbers around engagement matrices. On an average, we've seen a 3X to 5X average session duration of people who search within your website vs people who don't. The below graph illustrates this better:
How to target insite search visitors?
Except heavy remarketing efforts, it's difficult to target or build strategies specifically to in site search visitors. Which could be a reason why many marketers skip this. However, our strategy team is currently working on some strategies, which you may find useful:
1) Product Innovation Litmus Tests: Targeting in site search visitors with remarketing is a no brainer. But let's go deeper into how we can talk to this audience with the right messaging. One innovative strategy which has worked well is litmus testing cross-sell and upsell product success potential. Now imagine you have a new end of season bundle offer or a new product offered at a discounted rate. You can showcase your insite search audience these ads via remarketing campaigns to test the traction. Since these visitors have a higher affinity for the brand or site, their success data can be used to change the offer or price before rolling it out to the world.
2) High Conversion Search Pages: When users search for particular products, they will still browse through multiple product views to reach their final product & buy. Based on the user journey's across products, there will be similar groups of products occurring in multiple situations. These products could be used to create custom search results pages, A/B tested with the original search results pages to test out if user's journey hops to the final conversion is reduced.
3) Highly Searched Items: There are always some types of searches across all categories that dominate the site. If frequently searched queries don't have matches, then store owners can look at this data to increase inventory. Further these product not found queries could be re-routed to result pages that contain similar type products to reduce bounce rates & increase conversion rates.
4) Increase Paid Marketing Keyword Pool: Increase paid marketing keyword pool through mapping conversion successes to the relevant keyword search queries in-site.
5) In Search Coupled with Custom Audiences: Users searching for a similar themed queries, can be tagged with search queries to create remarketing audiences that can be used to target other products. Like people searching for jogging shoes can be sold Yoga mats.