OnlineSales.ai drives success with Facebook's beta 10-link carousel ads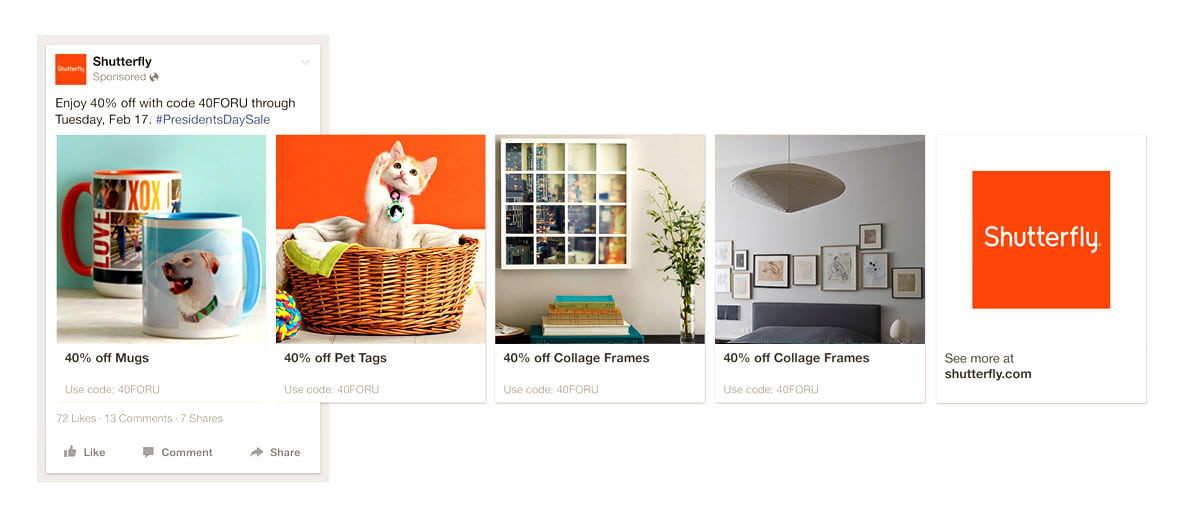 Facebook's new beta 10-link Carousel ads promise faster time to benefit at 25% less cost.
With more creative real-estate the carousel ads promotes your business front and center driving more conversions.
As a preferred Facebook Partner, OnlineSales.ai can now launch a 10 Link Carousel Ads, where 10 images are uploaded, of which, 5 best images are automatically selected based on historical CTRs, audience reactions and more. This presents the advertiser with the best possible cost efficiency.
* Real results from an eCommerce client
Reap higher ROI at lower cost
The 10 link carousel ads select 5 images based on past performance and audience responses. This delivers higher CTRs and lower CPCs giving advertisers and users the best experience.
Get rapid benefits within shorter time-frames
The effect of the 10-link ad formats is almost immediate. Clients who have run programs with the 10-link ad formats have experienced improved results in little as 6 hours.
Tell a better story through more images
Drive performance at every stage – awareness, consideration and conversion – with eye-catching creatives that have proven performance credentials.
Exclusive only with preferred partners
While most Facebook product ads follow the 5-image formats, the 10-image ad formats are exclusively available to preferred partners through specialized API calls. OnlineSales.ai's preferred partner status translates into experience and expertise to deliver guaranteed results.
To see how you can get started write to us at sales@sokrati.com.