Facebook Product Ads Simplified : A step by step guide to getting started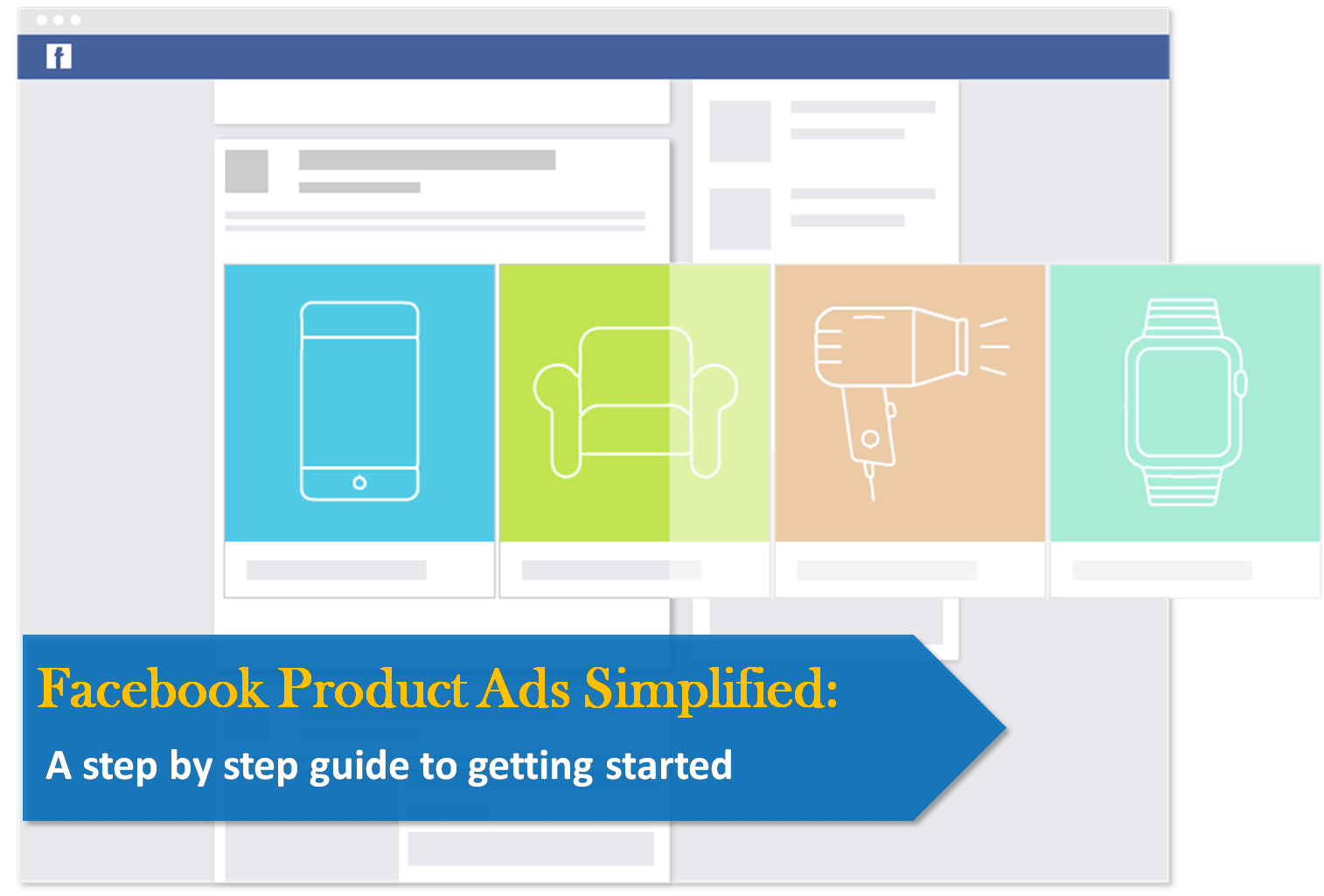 What are Facebook Product Ads?
Facebook Product Ads is a form of dynamic advertising that allows marketers to showcase a variety of their products to a wide audience.
With exciting features like multi-product advertising and audience clustering, this marketing sensation has become extensively popular among e-marketers.
In this post, we will walk you through the essential basics and steps to launch your first Facebook Product Ads!
Google pioneered this format with its Shopping Ads (also known as Product Listing Ads) and these have been around for some time now.
Here's a quick way to get started with Google Shopping Ads if you haven't already – Google Shopping Ads 101: How to get started.
In 2015, Facebook entered the paid advertising race and opened up its social media platform for advertising: Facebook Product Ads or Dynamic Product Ads (DPA) was their answer to Google's Shopping Ads.
How to get Started?
The first step for advertising on Facebook is to have a business manager account. Along with that, the steps listed below need to be followed in order to proceed with creating the campaign.
Upload the product feed

. This should contain an exhaustive list of all the products that you want to advertise on Facebook

Configure the Custom Audience pixel on your website to measure all the metrics and report on user activity.

Set up a dynamic template

which will be automatically filled with the right products to advertise.
Setting up your first Ad
Once business manager and the rest is setup, you are ready to create your first Facebook product ads.
Open

Power Editor,

 click on create a new campaign, name the new Adset and select your product catalog.
In the

Create Ad

section, you have the option of selecting either

Multiple Images

or the default selection of a

Single Image

.
Once you have chosen the image format, write a short description on what is being promoted in the

Text

section.

If you have selected multiple images options, select the number of products to promote in the

Images and Links

section. The default value is 3, but options can go up to 5.

Click on each numbered box, corresponding to a product and enter the

Destination URL

and

Headline Description

for each. If it is a long and complex link, enter a shorter user-friendly form in the

See More Display URL

field and this compact version will be visible to the customers.

Upload your product images under Image section. Make sure the image size is 600×600 pixels.

With the Ad and URLs in place, move on to the

Creative Optimization

section where you can choose to show images based on popularity. If this field is left unchecked, the images will appear in the uploaded order. If the field is checked, Facebook automatically chooses an order, based on popularity.

Filling the

Add URL Tags

will keep track of clicks on the links.

Tracking Pixels

fields will show which ads resulted in actual customers.

Finally, click on the

Upload Changes

button to save the campaign.
Follow these steps and you would be ready with your first Facebook Product Ads Campaign!
Facebook provides additional features that you might want to check out to get more ROI from your advertising dollars.
Multi-product ads (MPA)
Multi Product Ads are a single ad unit having multiple product advertisements.
Each product will have
An image

A description

URL that leads to the item on the advertiser's website
All these are available for monitoring via the tracking pixel.
The ads are seen in the user's news feed and also have a carousel functionality,
A carousel is where the products rotate across the screen at the user's swipe.
MPA come with the following benefits:
 

Interactive MPAs enhance visibility and brand recall

 

Economical because more products can be displayed in a single ad unit

 

Responsive ads that work well across all devices
Starting 2015, Facebook opened up the Instagram platform for paid advertising and the results so far has been promising. Facebook allows you to simultaneously launch your Product ads on instagram from a unified Business Manager Account.
Retargeting
While MPAs are an effective way of advertising your products, retargeting provides an added boost and will take the performance a notch higher.
In retargeting, ads are shown to a set of people who have already visited or performed any kind of activity on your website.
You can create the set with any kind of activity a user has performed and target your ads accordingly.
 

Deep integration with Vendor Catalog – Direct integration with the vendor's product feeds allows DPA to pull in the updated product information from the catalog, in case of frequent changes and relay them to the MPA instantly. This will create Multiple Retargeting ads instantly.

 

Cross-device tracking – Facebook allows for retargeting to be done across several devices for the same user, regardless of the initial touch point at the vendor site.
If you aren't using Dynamic remarketing you are losing out on a lot, especially if you're an E-Commerce website.
Here's how you can get started on Remarketing: Dynamic Remarketing (DRM) – A Must for E-Commerce
Specific Audience Targeting
An important differentiator for Facebook is the access to user's data like interests, demographics and images.
This very powerful data can be used by advertisers to create specific targeting such as people having a specific interest or belonging to a particular demography, thus adding granularity to audience targeting.
Facebook allows you to create a list of similar audiences as well to grow your targeted audience.
Here you can provide a set of interests or targeting parameters.
Facebook then creates a set of lookalikes where the audience has similar interest to the one that you have specified.
This is a must if you're aiming to reach new audiences and grow your business.
Exclusion Functionality
You can also use Exclusion Functionality to further target your audience.
The Custom Audience pixel is so granular that it can include or exclude certain audiences. This function is particularly useful for advertisers who want to avoid targeting people who may not be relevant to their products.
These features and a host of other advanced tweaks make Facebook DPA a proven marketing tool for e-marketers (reports suggest healthy click and conversion rates) and a must have in their digital marketing mix.
OnlineSales.ai Product Ads Solutions leverage the Facebook Ad platform's capabilities to the fullest.
This enables e-retailers to launch ROI optimized, captivating DPA campaigns which attract buyers that are genuinely interested.
Related Posts