Fix Your Product Feed Issues With Our All New Product Feed Mapper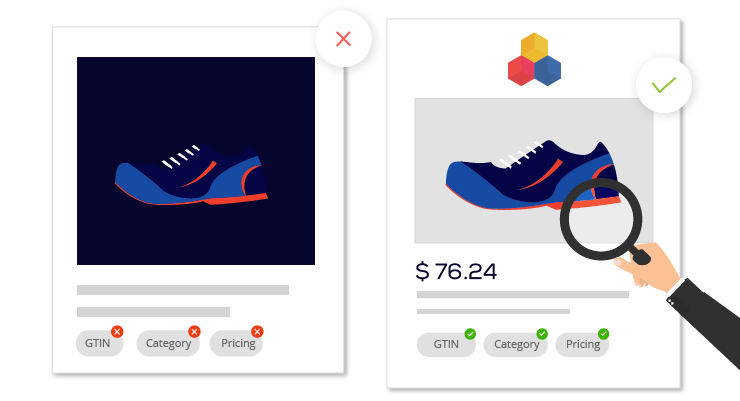 You can now auto-correct all your product feed issues on the OnlineSales.ai platform with 1-Click.
What does it solve?
A product feed is the core of any eCommerce store. It's how Sales channels like Google, Facebook, Product comparison engines and Marketplaces learn about your product and showcase it to your buyers.
Although, if you've ever tried Google Shopping, I'm sure you might have experienced the wrath of Google disapproving your product feed.
Your product feed could be disapproved due to multiple reasons: price mismatch, lack of unique identifiers (GTIN, MPN etc), wrong product category, incorrect images, incorrect product URLs, wrong targeting, missing tax and shipping rules and the list goes on.
We understand the pain that comes along with your products getting disapproved and therefore we've worked on a solution that will help you fix all your product feed issues.
Easily map your product feed:
Once you've uploaded your product feed on OnlineSales.ai, you can use our product feed mapper to quickly map the required and optional fields from the source feed.
Autocorrect your product feed issues:
You don't have to worry about getting your product feed disapproved due to incorrect GTIN, Age groups, Gender and Tax etc.
OnlineSales.ai will now auto-correct all your feed issues automatically and map it to the respective field.
How does it work?
Step 1: Go to Settings > Merchandise Connect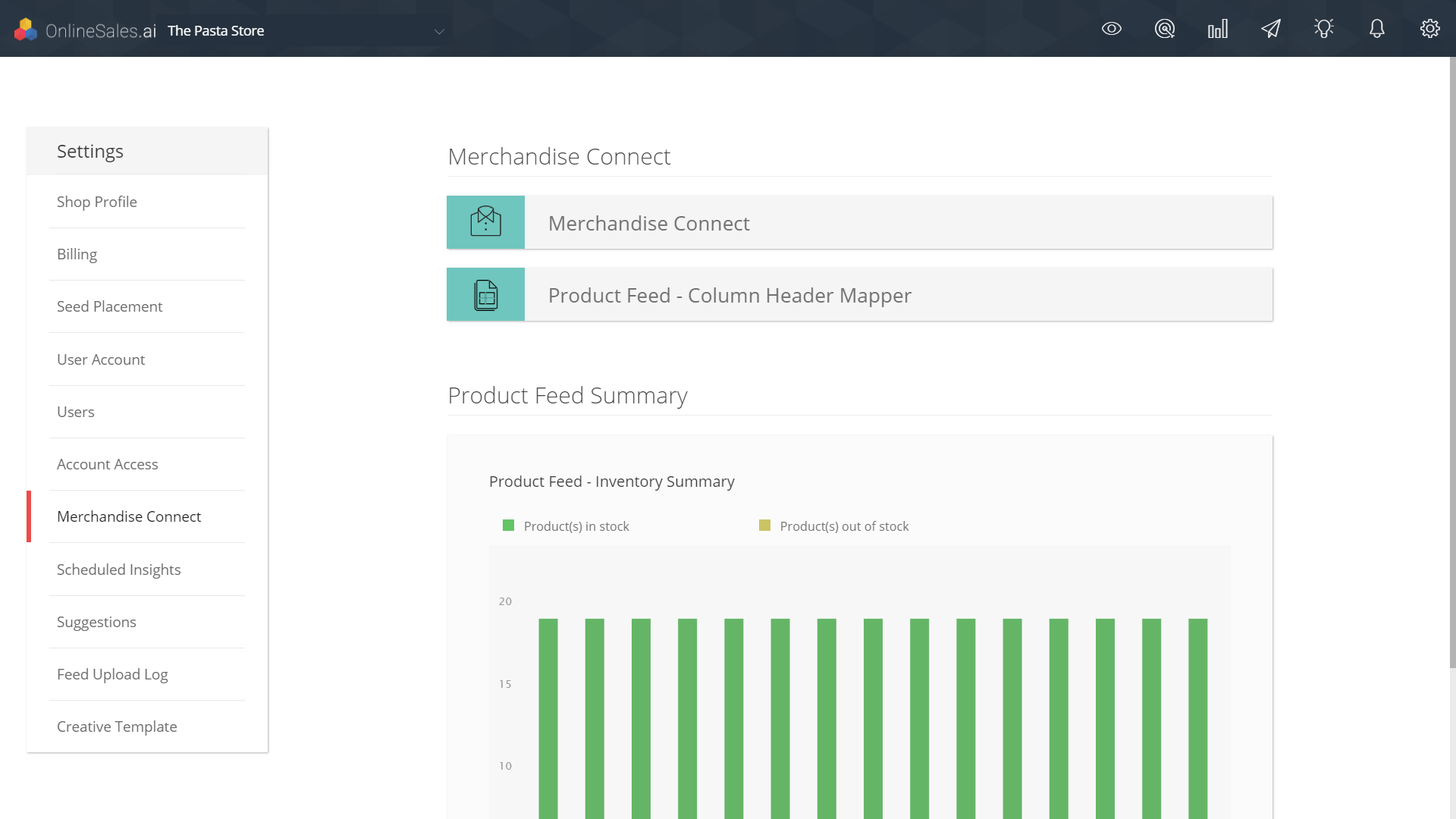 Note: Please ensure that you've uploaded your product feed before using the product feed mapper.
Step 2: You will see a list of required/optional columns on the left-hand side and fields from your product feed on the right-hand side. Using our smart search you can easily map the columns from your product feed to OnlineSales.ai.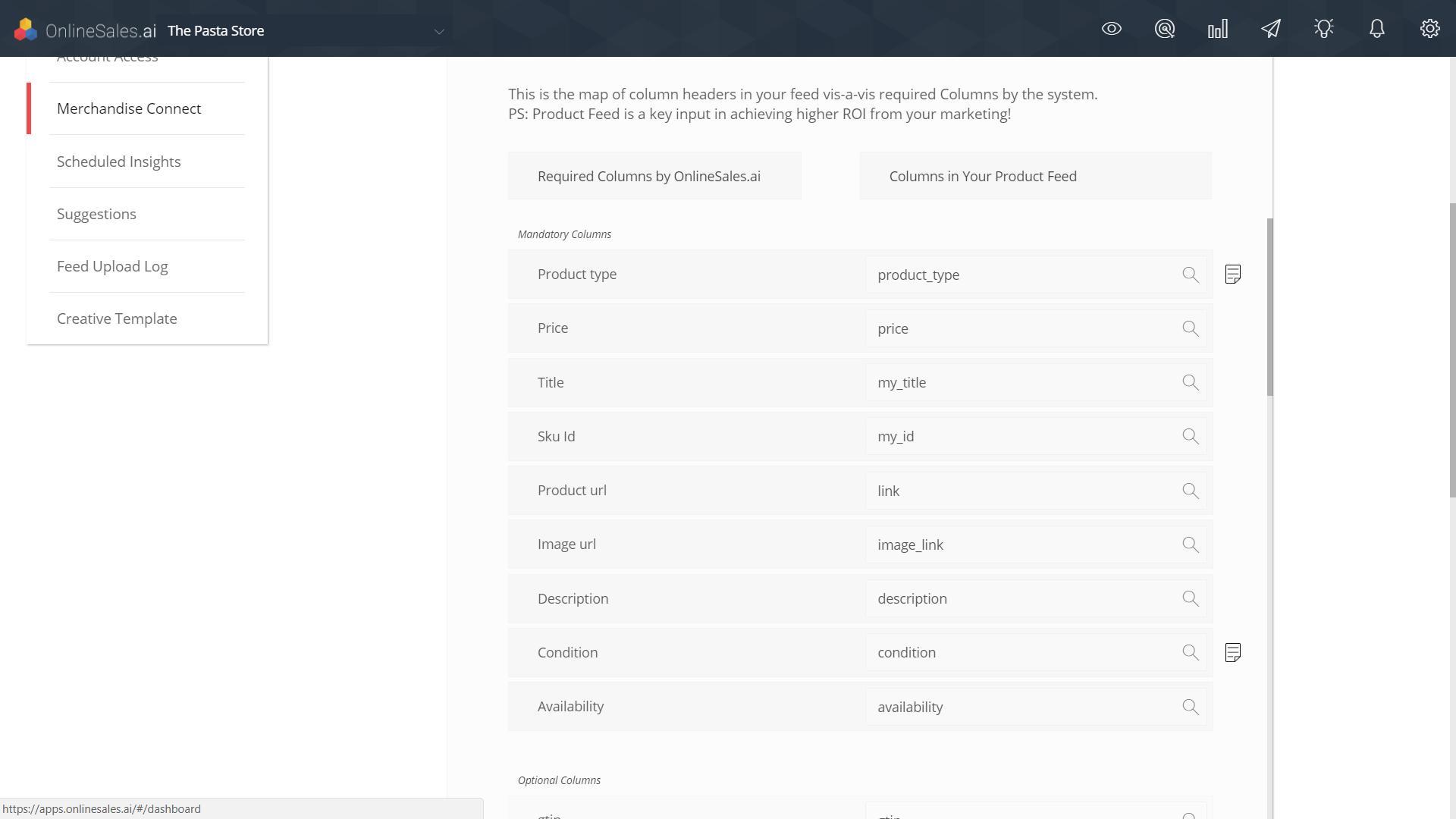 In case there are any issues in the mapped field, for e.g. incorrect GTIN for a product, the OnlineSales.ai platform will trigger a notification like the one shown below.

Just click 'Fix it' and the issues will be resolved automatically during the next product feed sync.
Who gets it?
All our customers who are built on BigCommerce, Magento, CS-Cart and custom platforms can leverage our Product Feed Mapper to resolve their product feed issues.
Note: For Shopify users, the product feed is automatically mapped with the required details and a 24/7 feed sync ensures that there are no issues.
See it in action: