Gmail Sponsored Promotions: How to Run a Successful GSP Campaign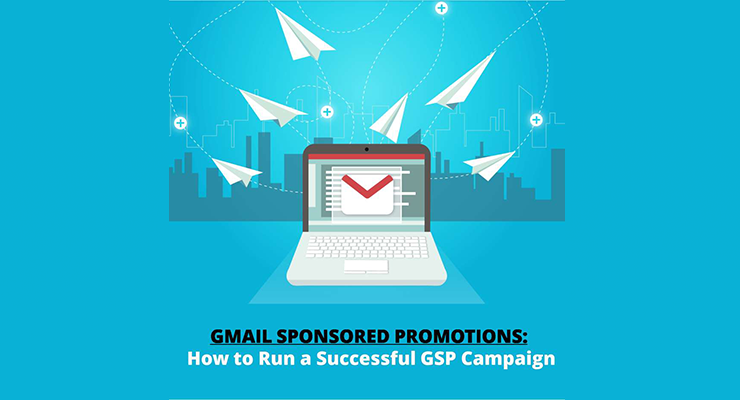 What are Gmail Sponsored Promotions? ?
Gmail Sponsored Promotions or Gmail Ads are interactive ads at the top of people's inboxes. When someone clicks a collapsed Gmail Ad, it expands just like an email does.
The expanded ad, which is the size of an email, can include images, video, or embedded forms. Available in all countries Google reaches, Gmail ads are a way to connect with people in a more personal-feeling format.
How do Gmail Sponsored Promotions/Gmail Ads work? ?
A Gmail ad or Gmail Sponsored Promotions (GSP) shows first in its collapsed form. When someone clicks on the ad, it expands to an email-sized space that can be used to meet a variety of advertising goals and can include, for example, embedded forms or video.
People can interact with your expanded ad in different ways, depending on your ad's layout. They can play video, fill out a form, click to go to your website, or (when they're on mobile) click to call or to go to an app marketplace.
You aren't charged when people interact with your expanded ad. You're only charged once—for the click that expands your ad in the first place.
The digital ecosystem is growing rapidly. Demonetization has definitely acted as a catalyst to bolster this growth, while internet connectivity still poses a challenge to all the digital marketers.
As the digital penetration into various audience segments grows, so are the technologies or channels to reach a consumer efficiently in different ways, Gmail Sponsored Promotions being one of them.
Before we get into this discussion, let's talk about the common mistakes that most advertisers make before or after they launch a campaign.
Do you invest your marketing budgets on channels for the entire marketing funnel or just the one which gives only last click conversions?

Are you give importance to Assisted Conversions?

Do you compare the numbers across different marketing channels?
If the answer is No (and yes for the last point) then you are definitely at the right place, reading the right blog. Most often we don't give much importance to channels that works best in driving awareness and consideration in consumers. We push our budgets to channels which help us achieve a good amount of last click conversions.
This is the reason why channels like Programmatic, Content and Gmail Sponsored Promotions are still the unexplored areas of the digital world. You need to look beyond last click conversions if you intend to scale your campaigns or brand.
With multiple brands offering more or less the same product as that of yours, you can create a difference by investing your budgets wisely on channels across the entire marketing funnel (Awareness > Influence > Consideration > Action) and giving users a reason as to why they should consider you over others.
Let's take an example of Michael's activity on different channels.
Michael is bored. He logs into his Facebook account to check how many likes or comments he received on a recent picture he uploaded.

Michael likes to read blogs on Digital marketing. He visits a website to read an article on Gmail Sponsored Promotions.

Michael is a big fan of 'The Beatles'. He visits YouTube to listen to their music.

Michael also likes to read news regularly on his smartphone.
If an ad is shown in each of these channels, where is Michael more likely to respond? So if the behavior of a user is different in all the channels then why do we compare the numbers? I will leave the rest of the analysis to you.
When was the last time you logged into Gmail to check your mail? I did it 15 mins ago and guess what, so did 10 million people.
People often get confused between a Newsletter subscription and a Gmail ad. Newsletter subscriptions are the regular mails in your inbox that you receive from an advertiser to stay up to date on any new announcements, sale or promotions.
There are two parts of a Gmail Ad: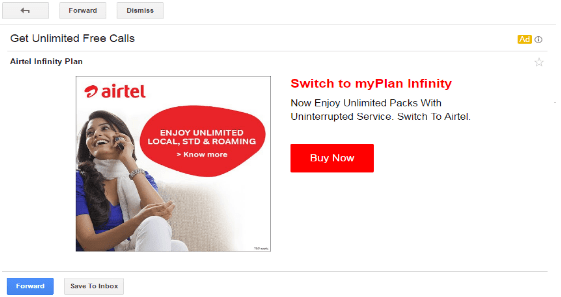 When a user clicks on a collapsed Gmail ad it expands just like an email in an expanded ad. This ad can include images, video or embedded forms. You can save or forward the ad and you only pay for the first click on your ad.
Targeting Options available on Gmail Sponsored Promotions:
Display keywords (Target users who have specific keywords in their inboxes)

Domains (Target users who have specific domains in their inbox which would typically indicate that they are part of a mailing list)

Demographics, Age and Gender

Device – Desktop, mobile and tablet

Topics (Based on thematic keywords in the inbox)

Affinity and In-market audiences

Customer Match (Target users on the basis of their Gmail ids)
Types of Ad Layouts:

Single image ad (if the product is visual and no extra information is required to explain)

Single product promotions (if you want to add extra details to your product or service)

Multi-product promotions (Promote multiple products)

Catalog creative

Custom HTML upload (Custom ads or form fill ads)
For more information, you can view the AdWords Help Center.
Why you should use Gmail Sponsored Promotions?
It is a new ad format for generating awareness, cost effective conversions and quality traffic.
A user subscribes to many advertisers to stay up to date on any sale or promotions. With Email marketing it is difficult to have your mail on the top of a user inbox at any particular instant of time. With GSP, you can ensure that you reach out to all the users at the right time by having your ad at the top of their inbox.
High targeting Options

. Isn't it great to target users who have bought from your competitors? With GSP's keyword and domains targeting, you can reach out to users with specific keywords and domains in their inbox. Also customer match allows you to target users on the basis of their Gmail ids.

Purchase journey of a user usually consists of comparisons and thinking. If you are able to capture their mail ids in this process then you can target these users with specific ad messaging to complete their transaction. You can also upsell to your existing customers. Customer match and Domain targeting are the best targeting options available on GSP.

It is a boon for

lead generation ads

. With formats like in-build forms, you can create effective lead generation campaigns by reducing drop-offs and number of click steps to a lead. There are other interesting ad formats available on GSP – single image, multi product and catalogue templates.

The HTML template gives you more flexibility to customize your ads. You can add forms, videos, phone numbers and multiple calls to action.

Gmail has more than

1 billion global users

and GSP allows you to tap into this massive audience with cost effective targeting options and ad formats.
Best Practices for running Gmail Sponsored Promotions:
Creatives
Invest in creating visually attractive images or rich media ads with a prominent call to action and other details. Always refresh creatives once every two weeks to avoid fatigue.
Always perform A/B testing with different ad copies.
Use custom HTML Gmail ads for lead generation campaigns.
For a major BFSI giant, we observed 35% increase in the lead volume after the usage of HTML creatives.
Targeting
Avoid narrow targeting of your campaigns. This will restrict the reach and you won't be able to reach a broader set of audience.
Before you launch a campaign always chalk out a targeting plan for the domains and keywords. Divide them into different ad groups for e.g.Competitors, Blogs, Tangential sites, Travel apps, etc. Include those domains which your targeted audience is likely to have subscribed.
At OnlineSales.ai, we have observed a desktop CTR of 7-10% across different verticals with the right set of targeting and ad messaging.
Always start with a low bid depending on your daily budget. There are only 4 ad slots available for Gmail ads, so the competition is high. Make sure your bids are high enough to win sufficient impressions.
Regularly check on demographics and age to ensure that you are reaching out to the right set of audience.
Use customer match to reach out to specific users on the basis of their Gmail ids. Make sure you tailor a different ad copy or creative here. You can also make use of Similar Match to reach out to new audiences sharing similar characteristics with that of the existing ones. Update the lists on a regular basis and perform a proper sanity before targeting them in your campaigns.
You can also run app install campaigns but the challenge is to dynamically exclude the installed users.
For one of our major eCommerce fashion client, we observed 25% increase in transactions by making use of different ad templates and right set of targeting options.
Bid Strategies
Always start with a low CPC bid and bid up if the campaign doesn't pick up.
You can try accelerated pacing for customer match campaigns. Expect a high CPC but a very good conversion rate.
Avoid making frequent bid changes to the campaigns.
Device
If your target audience lies in 18-30 age group then you should open up bids for mobile and tablet devices provided your website is mobile responsive.
Spend rates are faster on mobile so always start with a low bid.
If you are using form fill ads for lead generation campaigns then it always better to push some budgets to mobile devices. Conversion rates are quite high with low CPC.
For one of leading global telecommunication client, we observed 30% increase in the lead volume due to proper device optimization.
Gmail Metrics

CTRs is not the only metric to gauge the performance of your Gmail ads. You can use Gmail metrics like Gmail saves, forwards and Clicks to Website to measure how users are interacting with your ads.
These are very good indicators of efficient targeting especially if branding and awareness is important to you. External CPC (Gmail clicks to website/ Internal Click) is a very important metric to monitor traffic to your website.
We have been using these strategies for our clients across different verticals and they have been really helpful in setting new benchmarks.
Hopefully, this post has given you insights on some of the best practices to be followed for running a successful Gmail Sponsored Promotions campaign. This ad format is definitely worth trying!
If you're an E-Tailer looking for an AI Driven Email Marketing Solution check this out.
Related Posts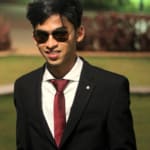 Authored by: Bishmaya Kumar | Business Analyst