Google Adwords Customer Match with Ecommerce Client Data Insights & 6 Best Practices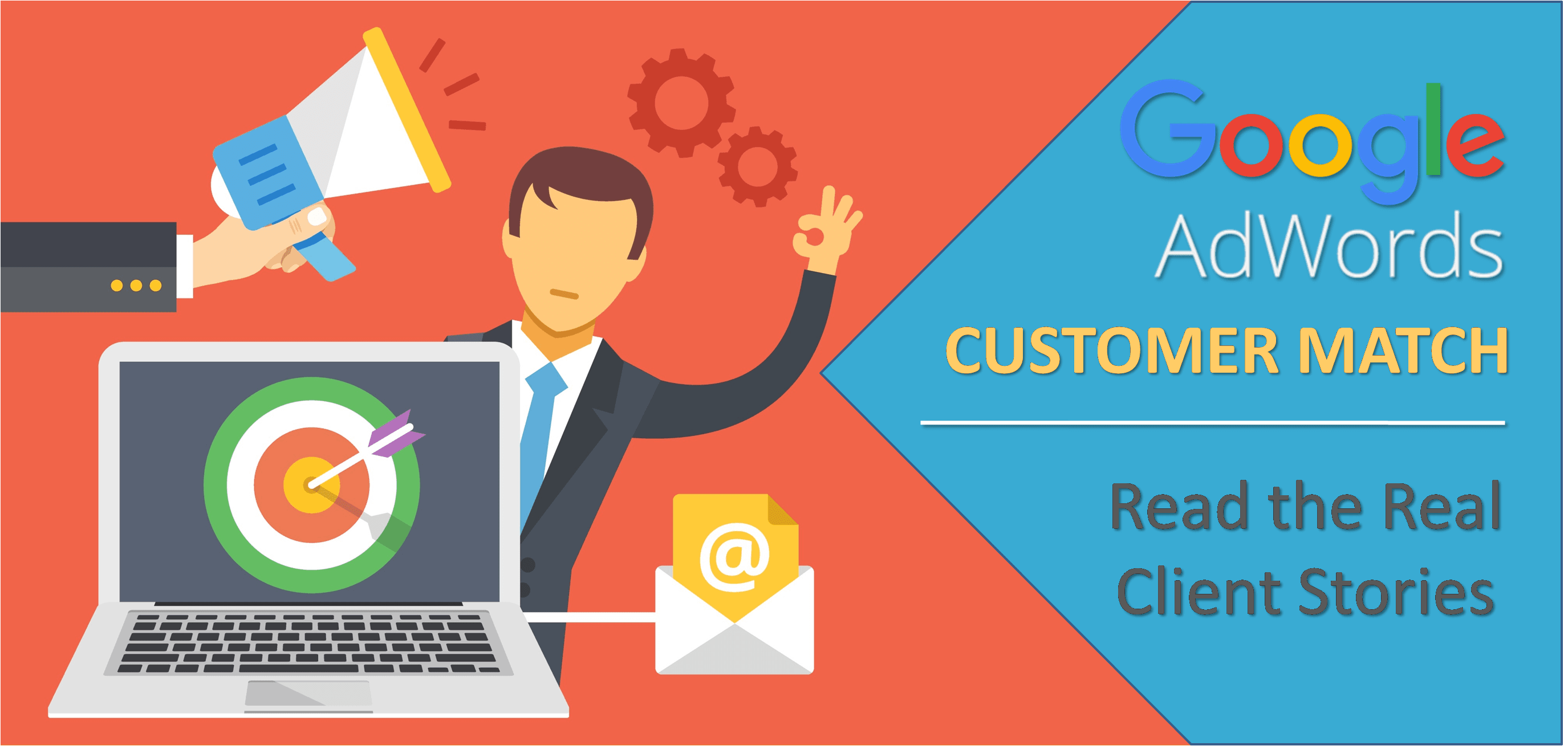 What is Google Adwords Customer Match Feature & Why all the Fuzz?
Google rolled out its Customer Match feature in late September 2015, a much awaited ad targeting method in response to Facebook which drove tons of customer success stories around the same last year. Till now you could only create Remarketing Lists based on cookie clusters segmented by your audience lists such as specific page viewers, add to carts or even transactions. It was never possible to target specific users. Google created this email remarketing functionality where all you have to do is enter your email lists & Google would create corresponding cookie based remarketing lists based on how many user emails matched Google's cookie database. Larry Kim from SEJ declared a very high match ratio for Google – around 51%. We found a similar match ratio for Google Adwords Cusotmer Match with our clients as well.
Using Google Adwords Customer Match you can take RLSA (Remarketing List Search Ads) to a new level. Also Customer Match let's you remarket on GSP, a relatively new Ad channel with which we saw a fair bit of customer success especially for our ecommerce clients. However, 3 months down the line, I have scavenged the internet for some real client data around Email Remarketing & found articles talking about to-do's & best practices around Google's Customer Match.
Which is why we decided to compile a few real world case studies on how the Customer Match Ad Strategy fared in eCommerce. These success stories were an eye opener for us and will help you take the plunge with Google's Customer Match.
Success Stories around Google's Customer Match
How a US eCommerce giant saw 2X growth in userbase this Holiday Season using Google's Customer Match as compared to normal RLSA!
Our core Google strategy team gave us some fruitful insights on how exactly custom audiences worked.
What was the business goal for using Google's Customer Match strategy?
We wanted to experiment using custom audiences & scale up high ROI channels such as remarketing for the holiday season. Email Remarketing was definitely a viable option.
How big was the email list & cookie pool?
We had two lists, one containing 20,000 subscribers that had a 55% match rate and gave us a final cookie size of 11,000. The bigger list of users making purchases was around 30,000 & had a very high match rate – of 90% – and gave us a cookie pool of 27,000.
What kind of keywords did you use for remarketing on search?
We refrained from using Brand keywords, however, we wanted to use product category & product specific keyword sets, which yielded maximum volume. We used mid-sized keywords which were not exactly long tail but at the same time not short keywords either. Strangely Christmas-themed keywords did not work for us.
Did you use different ad messaging/discounts than normal ads?
There was a 15% off on total purchase value, which we thought was a strong message, however out of the total ad clicks, only 60% of the users applied this coupon whereas the others used the store wide discount coupons.
So how did customer match fare against normal remarketing?
We had excluded these lists so that there is no cross triggering. This reduced our parent remarketing lists significantly, as we wanted to try out Custom Match channel & compare the matrices. I have shared a basic table of matrices for both Customer Match & RLSA, where both lists were targeting similar set of keywords.
Some Insights our core Google team pointed out

Purchasers List had a higher conversion rate with the same CPCs


Customer Match lists had a CTR of around 9% and are around 30% cheaper than RLSA

Our RLSA cost per conversion with the full list size is around USD 45. Even after factoring the condition that RLSA size is 1/10th the usual, conversion rates were still higher for RLSA by more than 1%. However, this is a trade off with volume.

Even though there was a trade off on the cost per conversions, we were able to double purchases, by using an added channel which was still cost effective

For the future, we would create email lists segmented by age, gender & demographics for more specific ads & landing pages targeting higher conversion numbers
Final verdict: If we used normal remarketing, our list size factoring in seasonality would still not drive us more than 1,500 clicks for that period, which is half of what we achieved with customer email match, and hence this strategy was definitely more successful.
Our GSP team shared a successful GSP story with us on an Indian apparel client and here is what they had to say:
How an Indian eCommerce giant used Customer Match for GSP to increase their conversion by 10% with only 1/8th the CPL as compared to display channels.
Our core Google strategy team gave us some fruitful insights on how exactly custom audiences worked.
What was the business goal in using GSP as a channel?
Our client wanted to increase conversion volume and high conversion rate channels such as Google Search & pure remarketing were already being used optimally. Our client did not wish to increase pure branding budgets, and hence we had to take a hybrid approach where we could use a push medium for branding but targeted relevant audiences to keep our cost per conversions in check, and hence email remarketing made perfect sense.
How was your experience with the Email Match Ratio?
Our client got a match ratio of 44% with 1.6 million emails and a 700,000 cookie base. This is the overall number across nine email lists which were segmented only by subscribers from different parts of the website & offers. There was no age, gender or demographic segmentation.
How did Google Customer Match help your client?
We kept our creative messaging uniform across the website. GSP as a channel with Customer Match contributed directly to 7% of the monthly transactions. We had an awesome CPL that was 1/8th of display. Also 17% of our total transactions had a 1st level interaction with GSP. So in effect, these assisted conversions helped us increase overall conversion numbers which was a business level win.
Final Verdict: Customer Match strategy helped us increase total transactions by 7% & assisted conversions by 17%. Further it helped reduce our cost per transactions by 13.5%, so this is clearly a strategy we are going ahead with.
Keep these 6 things in mind for Google's Customer Match
1. Is Your Customer Match List too small? Try similar audiences
Yep you've guessed it & it's music to those PPC ears! Akin to creating similar audiences for any normal remarketing audience list, also available is similar audience for Google's Customer Match, as discussed by Larry from WordStream. Similar audiences work on the principle of gathering remarketing cookies of users who have shown similar online behavior such as visiting similar websites, but not yours. Similar audiences are available for YouTube & Gmail properties. This is an interesting experiment that we are currently running in house & will share our results soon.
2. How does Customer Match fare as compared to primitive RLSA?
Well for one if you are a small business & have small remarketing lists for your search campaigns, then you can leverage 3rd party eCommerce lists & launch your Customer Match remarketing campaign with a sizeable audience. This is a hack and you can use this technique to not only bring relevant users on board but then use primitive remarketing to follow these users based on their site behavior. Further unlike remarketing cookie lists that segment users based on site behavior patterns, using Customer Match lists you can create segmented email lists based on specific user actions, like users who always bought your apparel section products during sale periods. You can then create ad copies tailor-made for them, and the possibilities are endless! You can read more about a thorough analysis on RLSA vs Customer Match done by the good folks at SearchEngineLand.
3. Do you really need to hash your Email Lists?
Google parses your email lists using an Industry standard SSL encryption method, and your email lists get destroyed in 7 days post the complete match process. However it's best to process your email lists through a standard SHA256 algorithm which is a one way encryption algorithm. For more details find out how you can implement this.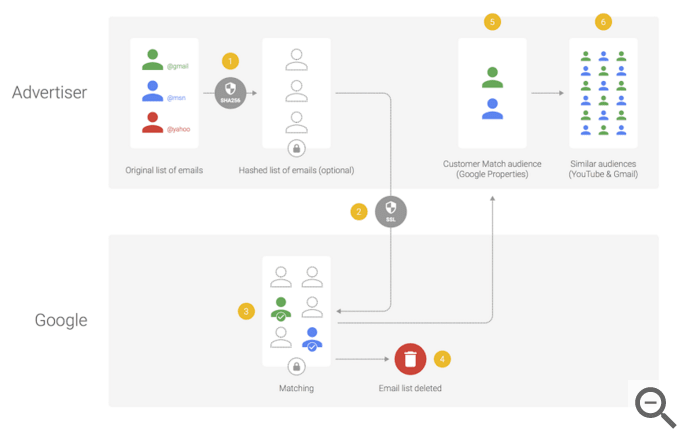 4. How does Google create your Customer Match List in the backend?

When you share your email list, Google will pass it through it's SSL layer, after which the email ids get mapped to Google's database, this mapping takes around 24 hrs & the email ids are destroyed after 7 days, as discussed in this Google support document. Once the matched set is ready, remarketing cookie lists for the same is created which shows up in your audience section.
5. Do Facebook & Twitter have something similar to Customer Match?

Facebook's custom audience works in a similar way to that of Google's Customer Match & has succeeded as a strategy for multiple verticals especially in eCommerce vertical for impulse buys. Twitter has a similar concept of creating tailored audiences that you can connect to based on email or twitter handles that you provide, this has helped guys like Hubspot increase engagement by 45%.
6. What about Audience Segmentation & Ad Creatives?

Currently we're running experiments to test email lists segmented by user behavior such as subscribers vs repeat buyers segmented over time to capture the recency factor. Also user segments based on frequency of buys, or based on sale and offers can help us create tailor made ads specific to that user group & then remarket with specific offers ensuring a higher conversion rate & better control on ROI goals.
In a nutshell, if you want to reach out to incremental relevant audiences & increase your conversion numbers at a similar cost per acquisition then Google's Customer Match is a potent tool in your arsenal. Hope you guys enjoyed this article as much as I enjoyed writing it. Special thanks to Deep & Shreya from the Google team to share their inputs.
For more information on how we can help you with your customer acquisition write to us at hi@onlinesales.ai.