How E-Commerce Platforms Can Stand Out from the Competition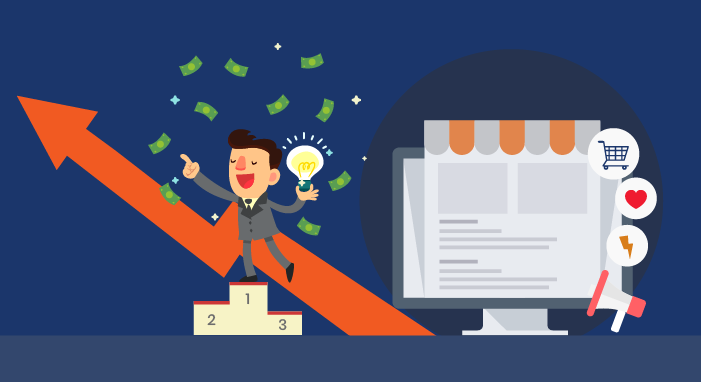 With most businesses preferring SaaS-based e-commerce platforms to set up their online store rather than opting for an on-premise solution, the E-Commerce Platform market has become extremely competitive.
In order to thrive in this fast-paced, hyper-competitive market, E-Commerce Platforms today have moved beyond the single purpose of just enabling businesses to sell products online.
The top e-commerce platforms today include all core business functions, accessible from a single unified interface. Use of such e-commerce platforms improves cross-team collaboration, reduces the setup cost and allows businesses to scale faster.
Most E-Commerce Platforms drive the following functions in a unified manner:
Order and inventory management
Payment gateway integration
Analytics and reporting
24/7 customer support
Website Design
Shipping
Hosting
While all these functions are surely important in setting up a successful store, there's one crucial function that every e-commerce platform has conveniently ignored.
A complete marketing solution that is natively integrated within the e-commerce platform. No store is complete without the right tools to help them attract more shoppers and grow their sales.
The Top Features to Look for in the Marketing Solution:
Cross-Channel Support:
The current eCommerce user journey spans across multiple channels and devices. Therefore, it is crucial that the marketing solution you choose to integrate with supports multiple advertising channels like Google, Facebook, Instagram, Amazon and Email.
Quick Campaign Launches:
Launching campaigns across different channels is often a cumbersome process, where you need to define the ad groups, ad sets, ad copy, targeting, ad creative and the list goes on.
You would not want your merchants to go through these hassles. Hence, you should look for a marketing solution that automates all the mundane processes and allows your merchants to launch their campaigns in 2-3 clicks.
One-Click Optimizations:
Your merchants are business-oriented people and they might not be familiar with the nuances of optimizing a campaign day-in, day-out on Google, Facebook, Instagram and Amazon.
What you ideally need is a solution that gives your merchants 1-click suggestions to optimize their ad campaigns and identify growth opportunities. Or even better if it can do all the optimizations automatically.
Smart Reports:
Lastly, your merchants should have 100% transparency on the performance of their ad campaigns. Therefore, you should ensure that the marketing solution you chose to integrate with offers actionable insights and has the ability to share customized reports with key stakeholders of their organization.
It is ideal to partner with a solution that can do all of this in a native and automated manner to make it super easy and simple for your merchants to launch marketing campaigns.
Here's How E-Commerce Platforms Benefit by Offering a Natively Integrated Marketing Solution:
1. Seamless Marketing Experience for Your Users
Any business who signs up on your e-commerce platform has a natural progression to explore different ways of driving traffic to its freshly minted store.
By offering a natively integrated marketing solution within your platform, you will enable your users to market their new store across different channels with ease.
Plus, your merchants will now be able to carry out their entire marketing operations from within your e-commerce platform – translating to increased engagement rates.
2. Improved Customer Retention
Providing your merchants with a seamless integration of automation, marketing and sales will help them drive higher ROIs for their stores and effectively reduce your churn. It's not easy to let go the comfort of a 1-Window interface that manages your store and your marketing.
Remember – a happy customer never leaves, but instead brings more business. 😉
3. It Gives You a Competitive Edge
Offering a natively integrated marketing solution gives you a competitive edge, as none of the other e-commerce platforms are currently offering it. Even if they are, it's not seamlessly native and incredibly simple to use.
By partnering with a solution that can provide you with all the features stated above, your platform now has 4-5 more services it can offer a merchant without investing or building any of it.
And honestly, we've never encountered a customer that has decided not to opt for a service that provides a complete solution and offers exclusive features.
4. Increase in Overall Revenue Per Store
There are two ways to look at it.
At a Merchant Level:
As your merchants drive more sales through marketing campaigns, you could make additional revenue if your eCommerce platform works on a commission-based model per sale.
At Platform Level:
You can charge your merchants a small fee for providing a natively integrated marketing solution. Fees can be as low as $15 per merchant per month and this in turn can significantly increase profitability at a yearly level.
How Can We Help?
Monetize by OnlineSales.ai, a complete e-commerce marketing solution can be natively integrated with any e-commerce platform within 1-week. It's an AI-driven solution for eCommerce Platforms globally to offer seamless marketing solutions across different channels to its merchants on a single platform.
To learn more about Monetize and how it can help your merchants, write to us on hi@onlinesales.ai.
Interested in Offering a Natively Integrated Marketing Solution to Your Merchants?