How to Beat The Amazon Black Friday Sale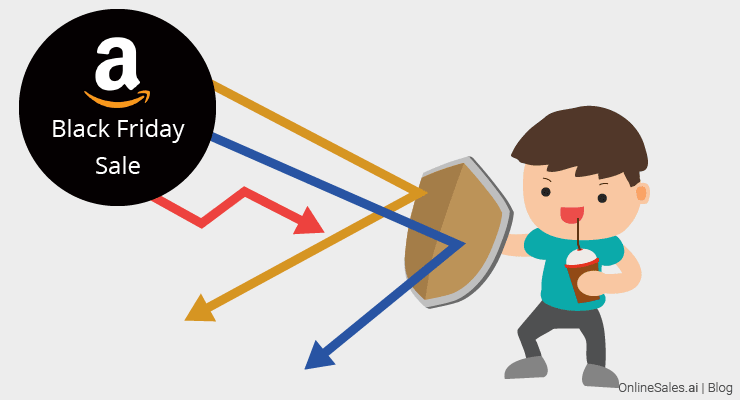 Millions of shoppers are anxiously waiting for one of the biggest days during the holiday season. Yes, The Black Friday Sale and Cyber Monday Sale.
Extravagant and mouth watering deals across product categories see shoppers flocking to online stores scouting for the best possible deals.
But Just How Big Is The Black Friday Sale?
Source: Adobe Digital Insights data.
Source: Adobe Digital Insights data.
Now, the billion dollar question – how much did Amazon make out of this?
Since Amazon is secretive with the numbers, Internetretailer.com took a dig and estimated that 40% of the total sales was accredited to Amazon from Thanksgiving to Cyber Monday.
The sheer numbers send out a shiver down the spine of smaller retailers.
So what's in stock for other retailers? How do we compete with the beast and win?
With the help of our experience in serving 1000+ retailers successfully, I've compiled & curated a strategy for you.
This strategy explains everything you need to know to beat The Amazon Black Friday Sale.
I'll be going in depth with a week-by-week strategy that's sure to bring you success.
Here we go…
Jump to a Section
Take Advantage of Your Existing Customers
Your existing customers are of utmost importance and easier to convert than new audiences.
For obvious reasons: they are well aware of your Website, Products, Customer experience, Quality of goods etc.
Since Amazon deals with millions of customers it's far stretched to say that they know their customers better than anyone else.
One of the top 5 influencing factors to choosing a retailer is 'past experience with the retailer', according to Astound Commerce.
Hence, as rather smaller merchants the customer base we possess is limited but the likelihood of customers coming back to us is high too.
As E-Tailers this is an opportunity to encash on.
Begin with segmenting this customer data to granular levels and start nurturing them at least 2 weeks before the big day.
Further Reading: 6 Best Practices for Google Adwords Customer Match with Ecommerce Client Data.
Email Marketing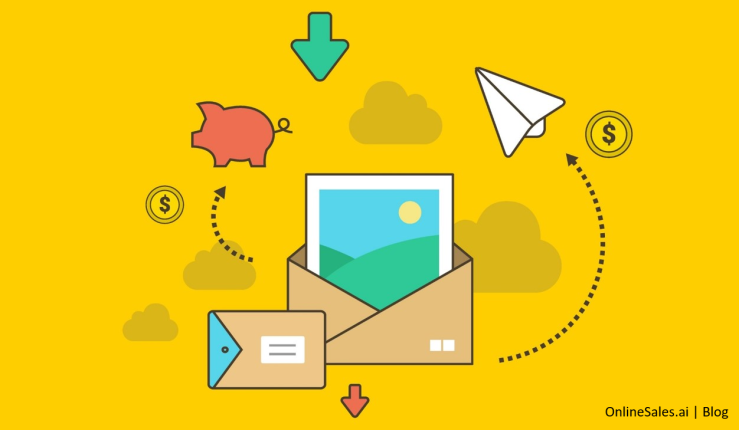 According to Custora, email campaigns beat both Search and Social Campaigns hands down!
Around 27% orders on Black Friday and overall 23% during the week (Thanksgiving to Cyber monday) were attributed to Email campaigns.
Paid search contributing 17% overall while Social a distant 2%.
How to begin: Three weeks to Black Friday Sale
Starting early is the key as people begin short listing websites, products before hand so that they aren't in a state of dilemma when the big day arrives.
Most of them are planning just like you are. Three weeks is adequate time, when utilised correctly.
Track Data
Collect Data Around Your Existing Customers Like:
Products purchased
Frequency of purchase
AOV (average order value)
Product category
Location
Device etc.
You should also leverage previous customer data from last year (Focus around the Sale period)
Top trending products
Discounts
Coupons
Categories
Email templates etc.
Once you have this data, create tightly theme customer segments that can be sent personalized emails.
If for whatever reason you don't have this data, don't fret. Here are some Customer Behaviour stats from the previous year.
Source: Sales Monday
What Are People Buying Online?
Stats Source : Statistic Brain
The above stats are not as conclusive as your own data since they are generalized across verticals & several websites. It's best to take them with a grain of salt.
Two Weeks To Black Friday
Start rounding up your customers segments with emails informing them about the upcoming sale.
Be clear with the discounts that you will be offering and across what categories.
Personalize the emails as if the categories/products are handpicked based on their preferences.
Keep the messaging crisp with a firm call to action. (Save the date, Add to wish list etc)
CTA's are one of the most important parts in conversions. They should change throughout the customer journey.
CTA's Throughout Customer Journey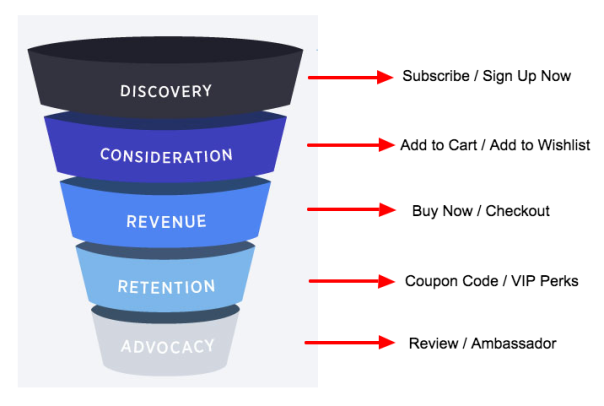 BigCommerce has an extensive article understanding the 12 must have Ecommerce Call-to-Actions.
You may use tools that track user behavior on your website and shoot out highly personalized emails based on products viewed, suggested products, add to cart etc.
Example – A user browsed a study table on your website. He/She should receive an email with the exact table he browsed along with the recommended products.
These recommended products could also contain a chair or a night lamp OR a set of similar tables.
Pro Tip : Optimize ROI Based On Shopping Cart Audience Clusters
Further Reading: 5 Amazingly Productive E-Commerce Purchase Funnel Boosters
A week to Black Friday
Send countdown mailers to get your customers feel anticipation and excitement.
3 days before the big day, reveal all the products on discount and send them personalized discount codes which could be an additional 10%-15% OFF above the discount offered to new customers.
Incentivise them further by referrer program to help them earn bonus or coupons.
This way you may have some newer customers added to your existing base.
Make your existing customers feel extra special by having the Sale opened to them a day in advance. (A marketing stratagem)
[Mandatory] – Have automated cart abandoned emails setup during the Sale to push users to complete the last step in their journey.
[Mandatory] – Since the emails are sent to your prime customer base, having the customer name in the subject line makes it ever more personalized and special.
In our own experience first names in the subject line outperform generic subject lines upto 2 times!
Paid Search Campaigns | Black Friday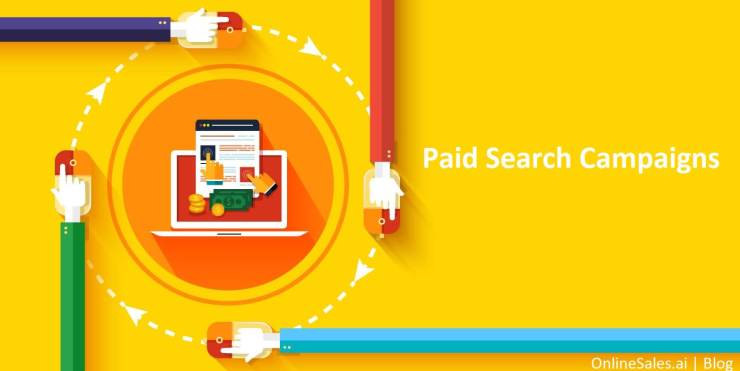 Paid Search campaigns can be an expensive affair. Every E-Commerce store is trying to get a piece of the "Black Friday Sale" cake.
CPC's can skyrocket, and your overall campaign costs can become a burden.
But that's why you're here, to get the right approach for your Paid Campaigns during Black Friday Sale
Paid Search Campaigns that are highly recommended are –
Remarketing campaigns are evergreen campaigns, more on them later.
Google Brand campaigns 
Brand Campaigns include keywords of your brand and possible misspells.
This will ensure that anyone searching for your brand is able to see your site above any organic listings.
Brand Ads help communicate all the information about the upcoming sale which are unable to be picked up organically.
Most importantly, there are high possibilities that our competitors could end up bidding on our brand keywords which we most certainly need to tackle.
In case you already have Brand campaigns enabled for the account, make sure all eligible keywords have more than 90% Search impression share.
Pro Tip:5 Best Practices For Brand Campaigns on Google AdWords
How to Juice up these ads
Countdown Timer Ads – These ads would highlight the days remaining until the deal or SALE expires which can induce sense of urgency and anticipation.
Ensure that Ads communicate all necessary information around the upcoming sale. (Products on sale, discounts available, USPs etc)
Make use of all possible Ad extensions like – sitelinks,callouts, structured snippets, message, call, review etc.
Further Reading:Google's Expanded Text Ads: 5 Things You Should Know.
Search Remarketing Campaigns

Target your existing customers on Google Search by uploading either their email IDs or phone numbers to create a remarketing audience.
Run generic search keywords around products you sell since this is a remarketed audience and will have lower CPC's.
For Example: If you own a furniture E-Commerce store for which you can have campaigns for generic keywords like buy wooden beds online, best deals on study tables, black friday deals on furniture etc.
Dynamic Remarketing Campaigns (DRM)

Some of the largest E-Commerce players derive 30-50% of the paid marketing transactions from Remarketing campaigns.
DRM's are a boon. They target users who have visited the site, browsed products, added to cart etc with the exact same products they either viewed or added to cart. This makes DRM's Ads highly appropriate and relevant.
How To Juice Up These Ads
Target the most recent website visitors for DRM since your brand is fresh in their minds (Preferable last 7 day visitors)
Use Smart lists from Google Analytics which can be created based on multiple parameters like location, device, browser, referrer, session duration etc.
What are Smart Lists?
A Smart List is a type of remarketing list that Google creates for you based on your conversion data in Google Analytics.
Google's machine learning determines which users are most likely to convert in subsequent sessions.
The model is typically updated daily to reflect the latest data to which Analytics has access, and users are automatically added to or removed from the audience based on that model.
Signals, including location, device, browser, referrer, session duration, and page depth to identify users for the audience
The Criteria for setting up Smart Lists are:
10,000 daily pageviews on your site
500 monthly transactions
Don't fret if you don't have the above pageviews or monthly transactions. Google will use similar websites like yours and make these lists.
It's not as relevant as the one made from your own data but it still works really well.
You can find more information on smart lists on Google here.
Here's How You Can Set Smart Lists for Your Own Website:
Go to your Google Analytics Dashboard. Select the "Admin" gear at the bottom left corner.
Navigate to the "Property" you want to create the Smart List for.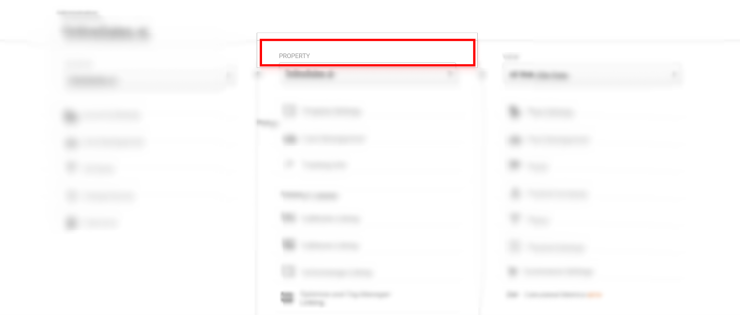 Once you're in the Property column, click Audience Definitions > Audiences.

Hit "+New Audience" using the red button, then select the account you want to set this up for.

Choose from the Pre-configured audience definitions: 
Smart List
All Users
New Users
Returning Users
Users who completed a transaction
We want to go for "Smart List" i.e. let Google manage the audience for you.
When you select Smart List, you'll then be able to see roughly how many users you've had pass through that site over the last 7 days.
This will help you when determining your membership duration, as you need to make sure you've got at least 10,000 users in the list for it to use your own data.
Name your audience appropriately and hit "Save," and you're all set!
This list will then appear in your AdWords shared library. You can also use it in any of your Google display remarketing campaigns.
Pro Tip: You may want to be more aggressive to iOS users than to android. These can be used for Search remarketing campaigns.
Further Reading : Remarketing with Analytics
Cross-sell/up-sell products based on what categories or products users have browsed, added to cart etc for DRM
Google provides multiple ad templates for DRM, choose ad templates that display price along with the discount "%" or discount price.
You may also design your own HTML5 templates using Google Web designer Beta which is a free tool.
Lastly, let's not forget the underrated Bing platform that contributes to 33% of the overall market share in the US.
The strategies shared above for Google can be applied as is to Bing campaigns too.
Social Media Campaigns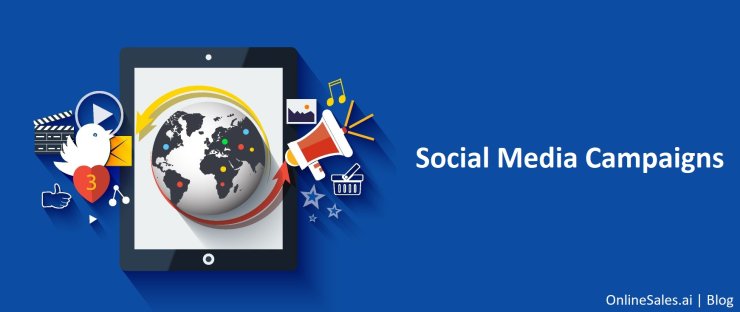 Facebook & Instagram can be a great mode to create a buzz around the Brand offerings as well as the upcoming sale.
The level of competition is fairly lower as most of the bigger brands are heavily vested in Google.
How to begin: Two weeks to Black Friday
Page Post campaigns
Start boosting your organic posts to a larger and newer audience. (Exclude your past buyers).
These posts could be talking about your Brand, the products and the upcoming Black Friday sale.
Page boost campaigns have one of the lowest CPCs and help attain maximum reach.
Website Click Campaigns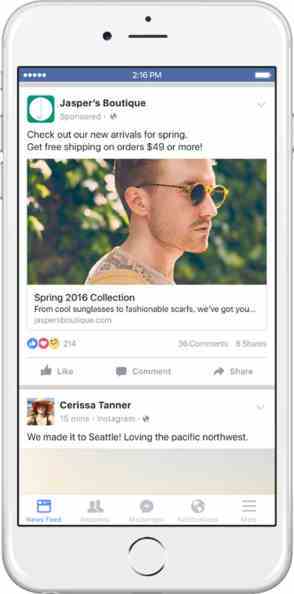 Image Source : Facebook
Create Posts which drive traffic to your website.
The link which directs the user can be a custom made landing page instead of a generic home page.
The advantage of these campaigns is that you can track a lot more user activity and behaviour on your website than on FB.
You can optimize your landing page to have a better Conversion Rate (CRO) than a typical Facebook post.
Further Reading: 7 Pro Tips to Improve Your AdWords Landing Page Experience
Carousel Ads
The idea behind carousel ads is to show more in a single advert.
This Ad format is a huge hit as the carousel format allows you to showcase up to ten images or videos within a single advert, each with its own link.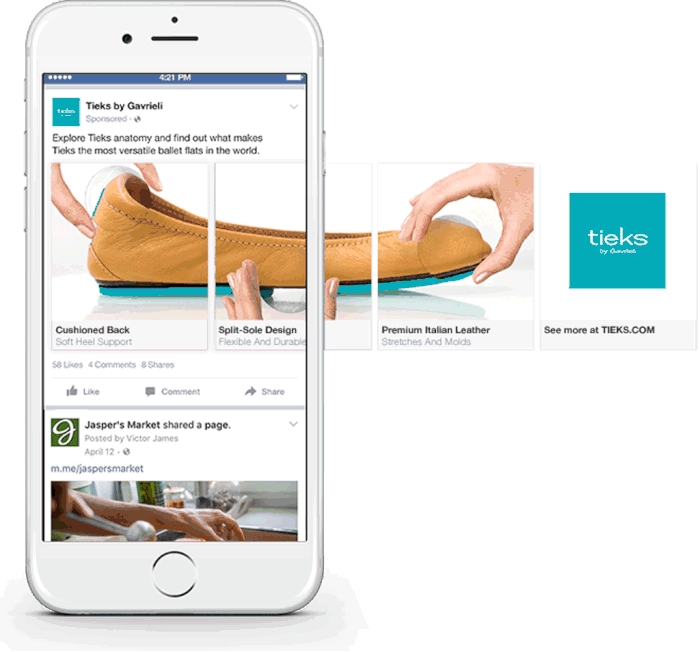 Image Source : Facebook
Run these ads on website click objective and ad delivery optimized for link clicks.
The campaigns will have relatively higher CPCs than Page post campaigns, however they are great in projecting a wide collection of categories and products.
A carousel ad can showcase a minimum of 2 and a maximum of 10 ad creatives.
Canvas Ads
With Facebook Canvas adverts, people can watch engaging videos and photos, swipe through carousels, tilt to pan and engage with lifestyle images with tagged products – all in a single advert.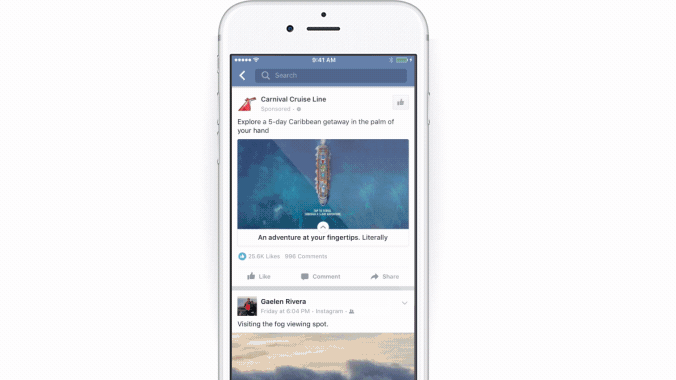 Image Source : Facebook
They won't just view your brand or story, they'll become part of it.
A Week to Black Friday
Pause all your page post campaigns and website click campaigns. Create new carousel ads with website conversion as the objective and ad delivery optimized for Add to carts.
How to Juice up these ads
Exclude Audience network as a placement from all campaigns. This placement tends to bring in a lot of irrelevant traffic.
The Carousel Ad format can be exploited in different ways, for example:
Say you own an apparel store. You can have a 5-10 link carousel Ads having:
Different product categories (shirts, trousers, shoes, accessories)
Carousel based on occasion (activewear, casual wear, formal wear, party wear)
Based on product types (t-shirts, polos, henley etc)
Split the ad sets based on device type as mobile and desktop have completely different CPCs.
This will enable you to have better control over budgets as Desktop CPCs would be at least 2X of mobile.
2 Days To Black Friday
You've worked hard and diligently till now. This is THE MOST CRUCIAL time of our strategy.
It's time to go all guns blazing!
Facebook Dynamic Product Ads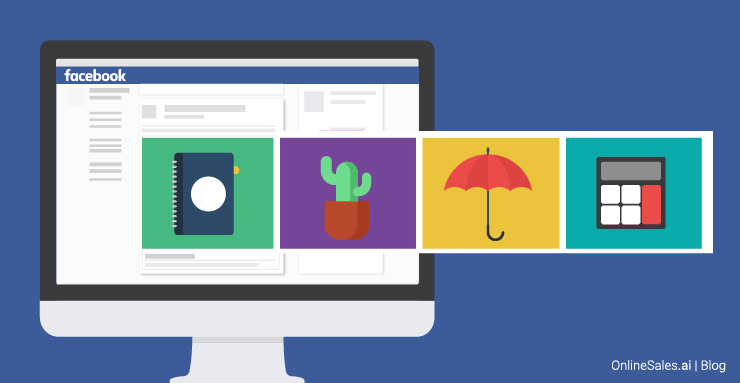 Facebook Dynamic Remarketing Ads allow you to target users who have visited your website, added to cart, abandoned cart or purchased from your website with the exact same products.
Needless to say these are highly relevant and targeted ads.
How To Spice Up These Ads
Optimize the Ad delivery of the ads to "Add to Carts" rather than conversions.
Cross sell/Up sell to past buyers.
Pro Tip: Keep the lookback period for website visitors and "Add to Carts" fairly small (last 14 days at max)
Use Ad Overlays which create urgency like displaying discount % on products, expiry date of an offer or coupon etc.
These Ad templates help in inducing urgency. Ads with overlays perform far better than without.
Further Reading: Facebook has a step-by-step guide on the different ways implement your overlay ads.
Collection Ads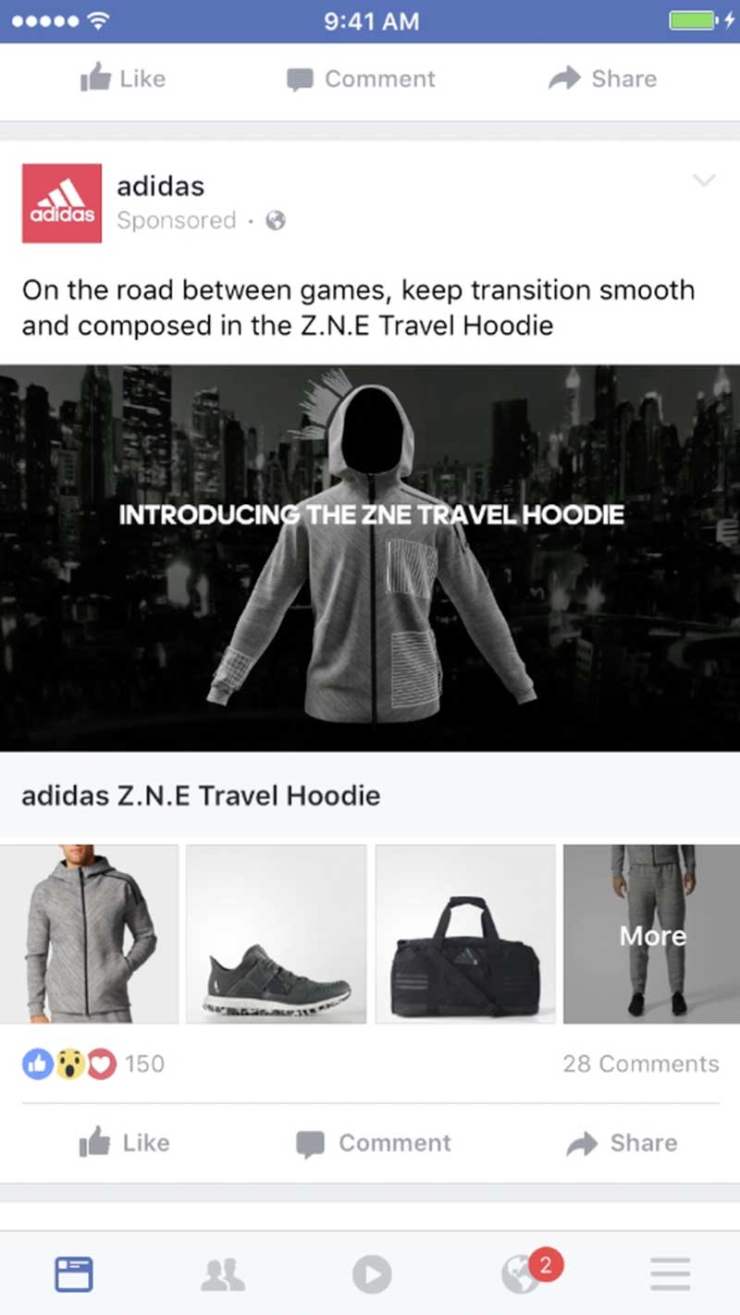 With the help of the Collection Ad format customers can discover & browse products easily from their mobile phones.
These Adverts are new and eye catching. They also feel natural for the user.
You can read more about Collection Adverts by Facebook here
Website Optimizations for Black Friday Sale
Preparing your website for Black Friday is one of the most crucial aspects of having a successful campaign.
Your website is the "Sales Person" for all your potential buyers.
If your Salesperson isn't presentable (Website Aesthetics), Adaptable (Mobile Friendly) or worse freezes (Website Load) etc you're never going to make a sale.
 Aesthetics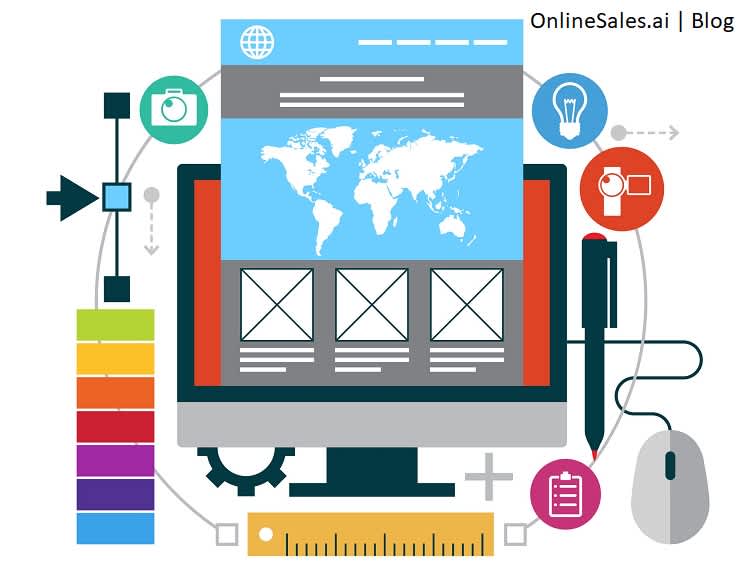 All your website should speak about is Black Friday Sales and Discount offers.
Flashy banners and Sale banners are the flavour of the season. Cover the website with attractive and flashy sale banners clearly indicating the exclusive and mega offers.
You can try various ways to show this. Brainstorm with your marketing team to make something quirky & fun.
Create variations of the same offerings, see what's working & what's not.

If your website doesn't reflect this then don't expect users to convert, the whole idea or concept of Black Friday revolves around lavish discounts and offers.
Sustainable Loads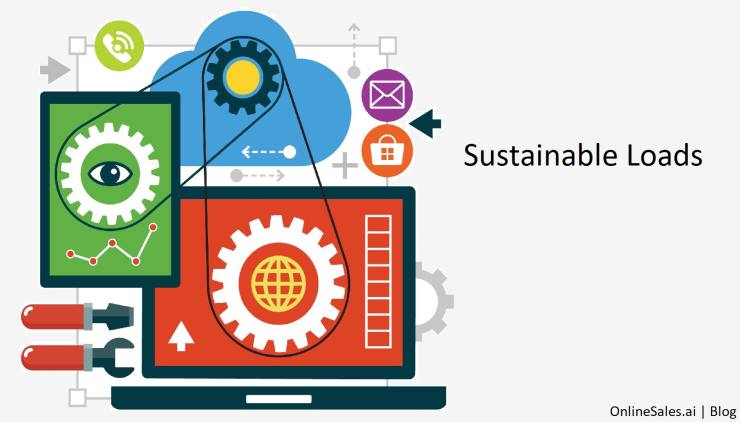 Another crucial aspect is to ensure that your website can take up loads of traffic surges during the Sale period.
There will be tons of users exploring products and the last thing you need is your website lagging/crashing and shooing them away.
Before the Sale period (At least 2 weeks earlier) start testing your website to see the maximum load capacity it can take.
Use the following tools to test Maximum Load Capacity – Smartmeter.io, Load Impact.
Have all the required code changes done to keep the website intact and healthy.
Mobile, Mobile & Mobile!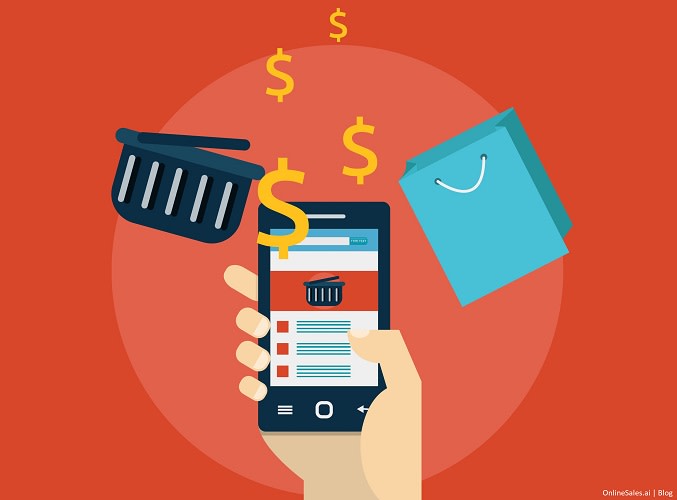 This is a no brainer really. Mobile purchases are growing day by day and it there are no signs of it slowing down.
Additionally, do not neglect having an omni-channel presence i.e. your website should be easily accessible and user friendly when browsed through mobile and tablets.
Major website like eBay, Walmart, Target see approximately 70% of their traffic through mobile devices, according to Adobe Digital Insights.
According to PayPal, Black Friday demonstrated the enormous growth of mobile shopping and its popularity with consumers.
Cyber Monday resulted in similar activity, with PayPal seeing over 50% year-on-year growth in mobile payments.
Source: IBM Digital
Customer Service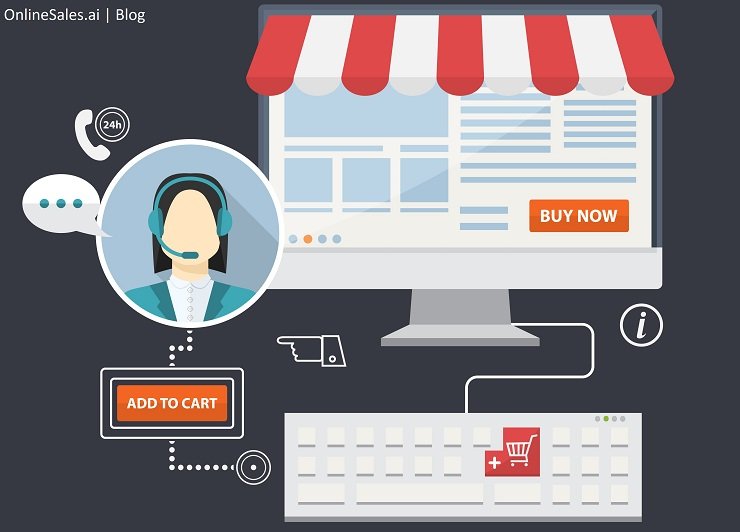 Integrate 24×7 chat with your website. Have a dedicated 24×7 chat and call support to tend to requests from potential customers.
A few happy clients can make a huge difference. When they feel loved they will not only appreciate it but spread it too.
Users will be researching, comparing, exploring products across various websites.
Customers will be coming in through our search, social and email campaigns.
Each user might come through a slightly different promotion or an offer. If your customer's query isn't solved from the product description itself, they are not going to write an email to you.
They will move onto the next website, simple.
Hence, having a chat or call support will make a huge difference during their buying cycle.
Sounds painful? – Pain is temporary, glory is forever.
Just kidding, but do make sure you have an expert manning the chat and call support who is well aware of website offering, inventory, logistics and has dealt with customer service previously.
If the right information is provided in the right way at the right time, you will end up converting him/her easily.
There is a reason they say – "Strike the iron when it's hot"
Free Shipping & Better Delivery Times

Source: Statista
Why? – Free 2-day delivery and same day delivery!
Astound Commerce quotes that
"Free Shipping, Guaranteed on time delivery are the two deciding factors amongst the top 5 when choosing a retailer."
How Important is Free Shipping? An extensive survey by Statistic Brain shows the following results:
Will not make a purchase without it – 36%
I actively seek out free shipping deals – 42%
I would like to find it but not required – 12%
Has very little effect on my purchase decision – 1%
I will make my purchase regardless of shipping costs – 2%
Don't know/not sure – 6%
If Free Shipping Takes a Toll on Your Profit Margins, try:
Adding the shipping directly to the price of the products. (Another marketing stratagem)
Offer free shipping for a selected few products and for a limited duration.
Charge a shipping fee only below a certain threshold (Order above $25 are eligible for free shipping)
You may A/B amongst these to see where the profits are better.
Hassle-free OR Extended Returns
Goes without saying. You need to have all your cards on the table, going all in is the key and providing returns is a part of it.
Providing no returns will make us lose any potential customers who have shown interest. Moreover our existing customers would most certainly need this.
What if you don't provide returns?

Simple, customers have the option to chose Amazon or any other website.
Project Yourself as a Professional
Sounds confusing? Well, Amazon has a plethora of products all thanks to the infinite number of sellers they have accumulated over the years and their relentless and undying focus towards customer service.
But! They are not experts when it comes to showcasing products. This is where you get to show off!
For Example:
I was looking for a riding jacket from Alpinestar and all I did was login to my Amazon account.
I started to browse, after exploring the jackets for a good 15-20 mins I narrowed down to Alpinestars Men's T-Jaws Waterproof Jacket.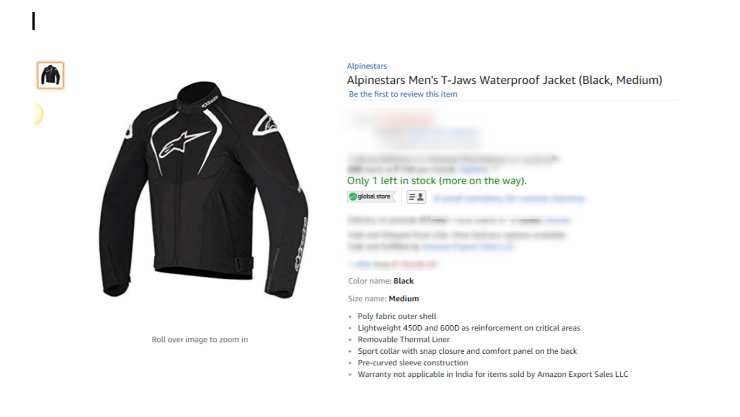 To my surprise, the size mentioned Medium but apart from chest dimensions there was no size guide, only a single product image. (Screenshot below)
After that, I searched for the exact product on Google and bumped into a website called Motardinn. (Check their product presentation)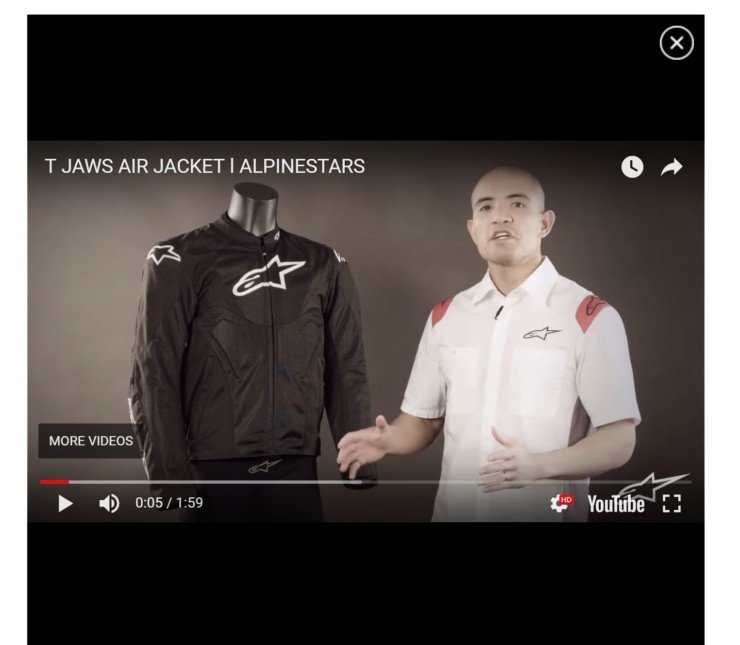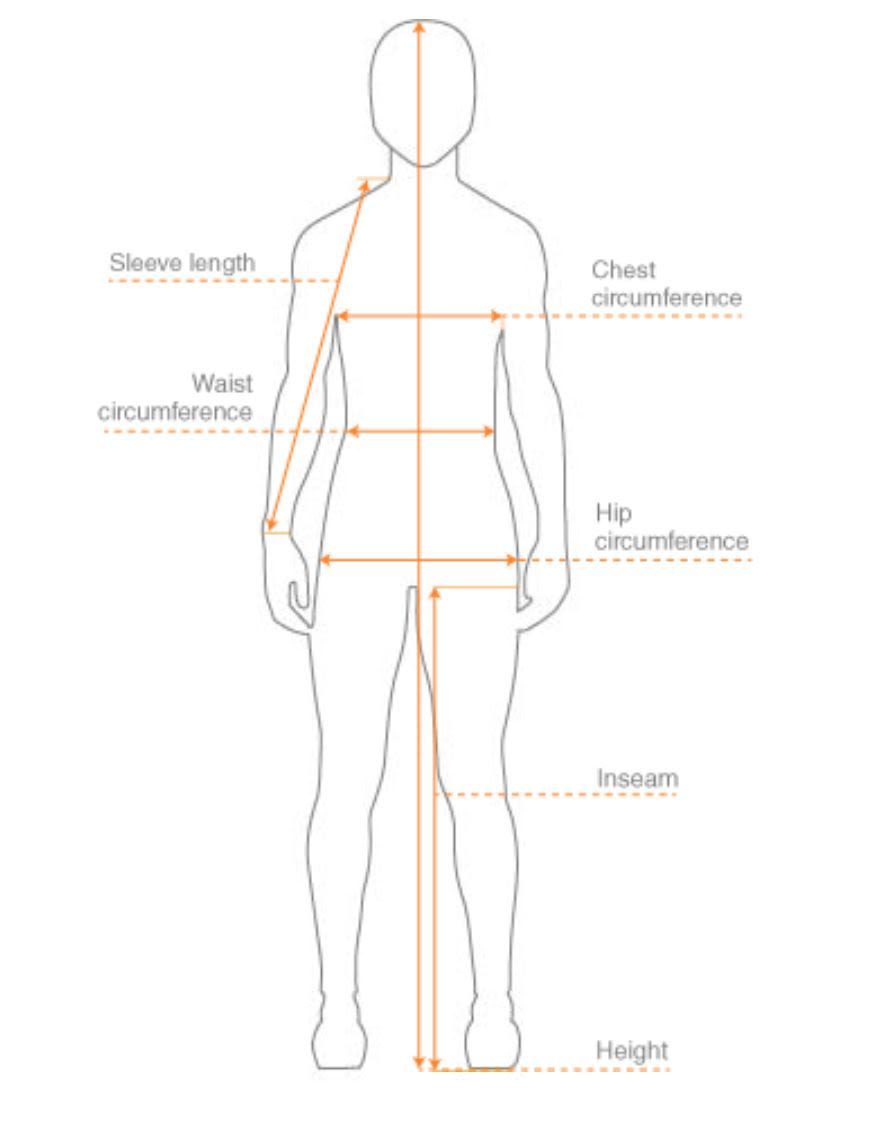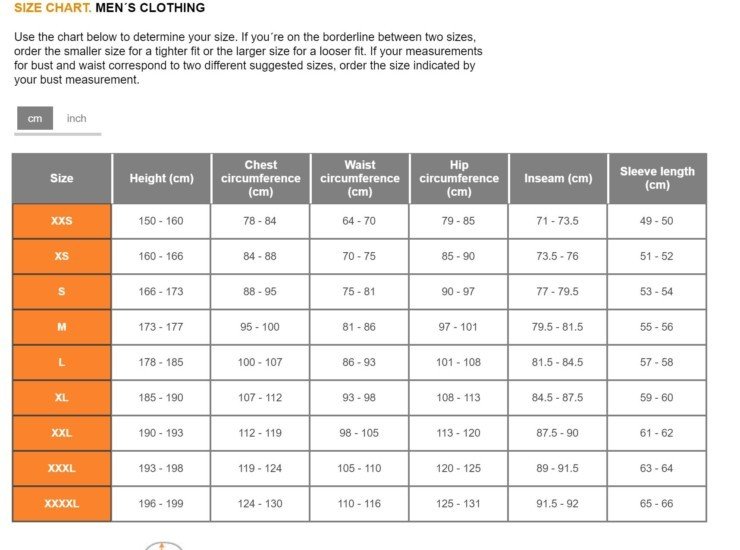 All the information around size, product description & features are not only mentioned clearly but in complete depth with an approx 2 minutes product feature video.
This is where you can create a much better experience and beat a giant hands down.
Not everything is about customer reviews. 🙂
Conclusion
Remember that your existing customer base is extremely vital.
Opportunities always exist, you need to be smart to capitalize and know how to position yourself in the market.
Taking Amazon or any other giant is not an uphill task when you have prepared, planned and executed these strategies perfectly.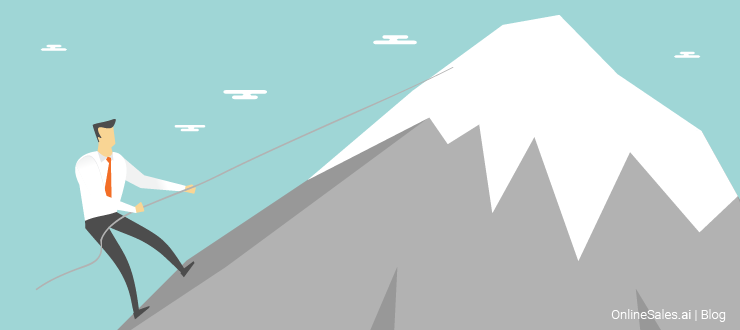 In the end, the competition isn't Amazon but you yourself.
Related Articles: