Why One Dimensional Marketing Campaigns Are Killing Your Online Jewelry Sales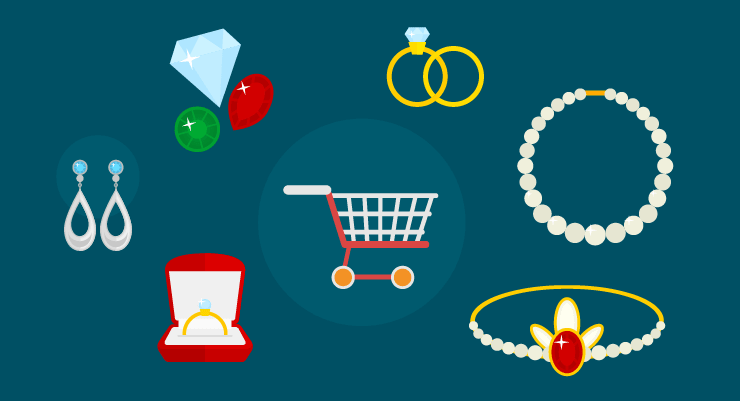 iPhone X is launched on Oct 27, retailing at $999. Long queues outside Apple retailers, online pre-orders is the usual order of the day for any iPhone launch. Tiffany's recently launched the men's Rose Gold Diamond ring, retailing at $1150.
Last reported, there were no queues at Tiffany's, or the internet wasn't buzzing with pre-orders for the ring either. Let's get to the point, at the same price points, Tiffany has to sell differently than how Apple sells.
Restricting this discussion to online sales, the goal for electronics is straightforward – sell as close as possible to +ve ROI!. When selling Jewelry, while ROI is a significant consideration, having a single goal can be hazardous for business.
Let's find out why, and, a possible approach to selling Jewelry online.
Unlike electronics, when buying jewelry online, there are various considerations
The make – metal, stone, cuts, design

Occasion

Store brand reputation

Prices and Discounts

The opinion of family & friends
Considering the complex nature of jewelry marketing and sales, it is impractical to measure success on a singular scale. Rather, successful online marketing campaigns are based on multiple strategies, closely aligned with the buying intent and the product behaviour.
A smart marketing strategy will be a combination as below:
| | | | |
| --- | --- | --- | --- |
| Product Type | Buyer Intent | Product USP | Marketing goal |
| Trending | High | In vogue, fast moving | High ROI |
| Best Sellers | Medium to High | Well known, brand identity | Consistent cost-per-transaction, LTV |
| New Arrivals | Low to Medium | Hustlers, growth agents | Funnel metrics – page visits, time on page, add-to-carts, purchases and returns |
| Show Stoppers | Low | Aspirational | Time spent on product page, spillage, LTV |
| Affordable Luxury | Medium | Crowd pleasers | ROI |
| Occassions | High | Functional | ROI |
The marketing strategies – keyword / targeting mix, Ad copy content, bids and budgets – are a function of the above goals.
As an example, long tail keywords work great for affordable luxury products, while an aggressive bidding strategy for top trending keywords (e.g. $11/click for "Diamond ring"), works considering the LTV goal.
One of the key factor of success for any jewelry marketing is strategy is to base the decision making on analytics and data. When marketing the Show Stoppers, it is critical for the business to monitor spillage, where possibly other lower priced are getting bought.
Equally important is to deploy a channel mix to gain maximum leverage from the marketing strategy. As an example, for marketing Best Sellers, you will deploy Google Search, Google Shopping and Facebook newsfeeds – ensuring you are acquiring new customers at a consistent CPT.
For New Arrivals, you will test with Youtube DRM, Google Adwords Customer Match with Ecommerce Client Data Insights & 6 Best Practices, with a bit of lookalikes thrown in – to ensure you are testing for new product behaviour against your proven audience.
As a Jeweler, you want to be selling a story! Our goal at OnlineSales.ai is to enable Jewelers enhance their online brand by helping deliver on thought through marketing strategies, combining the power of data analytics and AI.
Reach out to us on how we can help.
Related Posts:
To Budget or Not to Budget – The AI Perspective