[Infographic] Current Trends in the Indian Apparel Industry

Festive season is just around the corner and Google has taken this opportunity to dive-deep into the most popular advertiser verticals to find out the latest emerging trends around the top 10 E-Commerce verticals in India. 
They've summarised their research in an infographic that provides you with insights around:
1. Indian market trends
2. Device search trends
3. Search trends throughout the year
4. Popular search queries in your vertical
5. Strategies to create and capture demand
Apart from these insights, Google has also recommended various advertising products that E-Commerce Marketers can consider to boost their brand awareness, influence consideration and drive conversions during the festive season. E-Commerce marketers can leverage this piece of information by tailoring their marketing strategies around these insights.
Here's an infographic on the current trends in the Indian apparel industry created by Google, for OnlineSales.ai.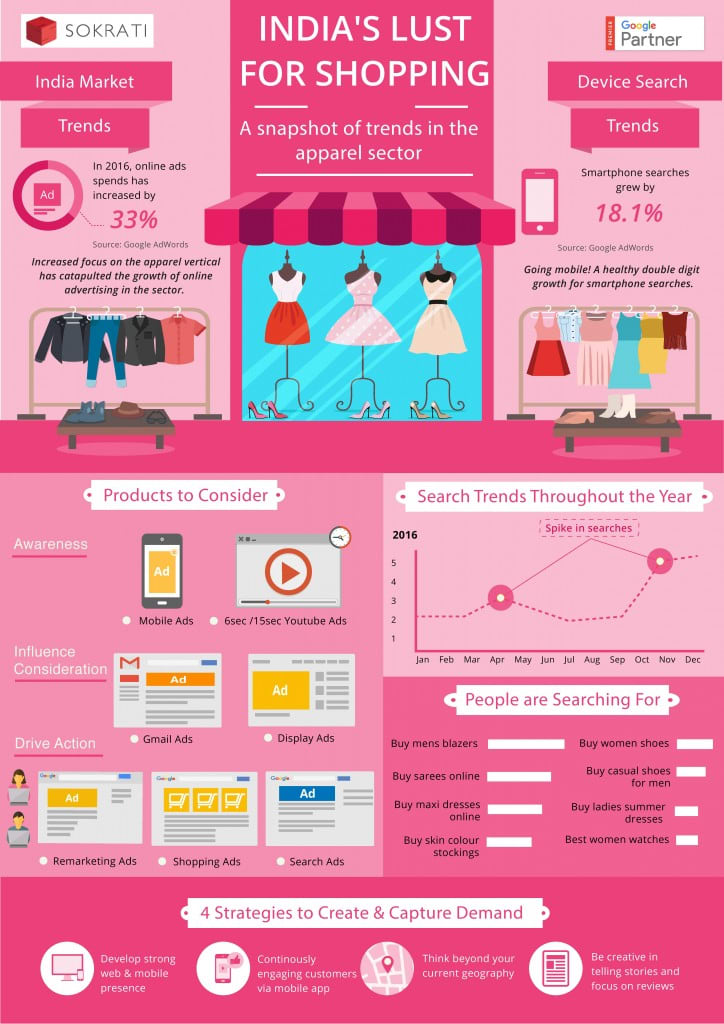 Quick Stats on the Indian Apparel Industry
OnlineSales.ai drives digital performance for 25% of India's online spend, managing enterprise and mid-level E-Commerce businesses, running catalogs from hundreds, up to millions of SKUs. Talk to us on hi@onlinesales.ai to discuss the potential and ideal growth of your online business, and we'd love to help!