Launch Self Serve Campaigns with OnlineSales.ai in Under 3 Mins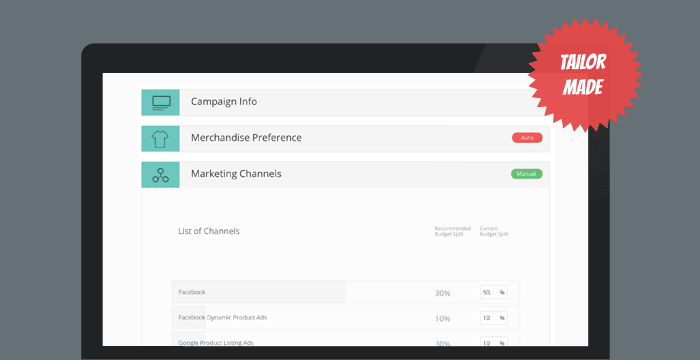 Now you can launch entire marketing campaigns in under 3 mins using the new DIY campaign launcher, just fill in 5 details & we are all set to launch!
Campaign Information. 

Set a name for your campaign and assign

a budget & the duration for which you want it to run. You also need to set an objective for your campaign, whether you want to focus on visitors, transactions or revenues, & corresponding goals in terms of actual number of clicks, transactions & revenue figures.

Merchandise Preference.

 If you wish to run your campaigns on selected sections of your store inventory you can highlight the same by typing store product types or even uploading a product catalog in any standard data sheet. In the recommendations tab we also share product types that would perform best, depending on the business goals you've set. Keeping merchandise preferences blank indicates to our systems that the entire store catalog is available for the campaign.

Marketing Channels. 

This section helps you provide a manual distribution of budgets across different marketing channels. Say for a flash sale, you want to go heavy on Facebook, you can provide 80% of your marketing spend to Facebook & give the rest to PLA or Google Search. Keeping marketing channels section blank, takes it to auto mode, where OnlineSales.ai decides the budget distribution across different ad channels based on site & industry past trends.

Audience Targeting. 

Currently this section is in auto mode, where our systems choose the targeting buckets based on your past site behavior & industry data. We are rolling out the manual override for this section soon.

Ad Creative Preference.

 This is also currently on auto mode where creatives are made by OnlineSales.ai optimized ad tools. We understand that sometimes you need high visually appealing ad creatives, and for the same we will be allowing the feature of customized creative insertion soon.

Review & Launch Section.

 Allows you to quickly cross check all the campaign highlights given by you. Also you can tag your marketing campaigns with tags, which will later help you in reporting. Finally in the quick comments section, you can add specifics like certain hours & geographies that you only want to target.
Once you hit launch, our ops team does a quick check to make sure that all campaign details are correct & comment actions taken. Excited about our new launcher? Launch your campaigns now!