Mary Meeker's Treasure and our 2 cents!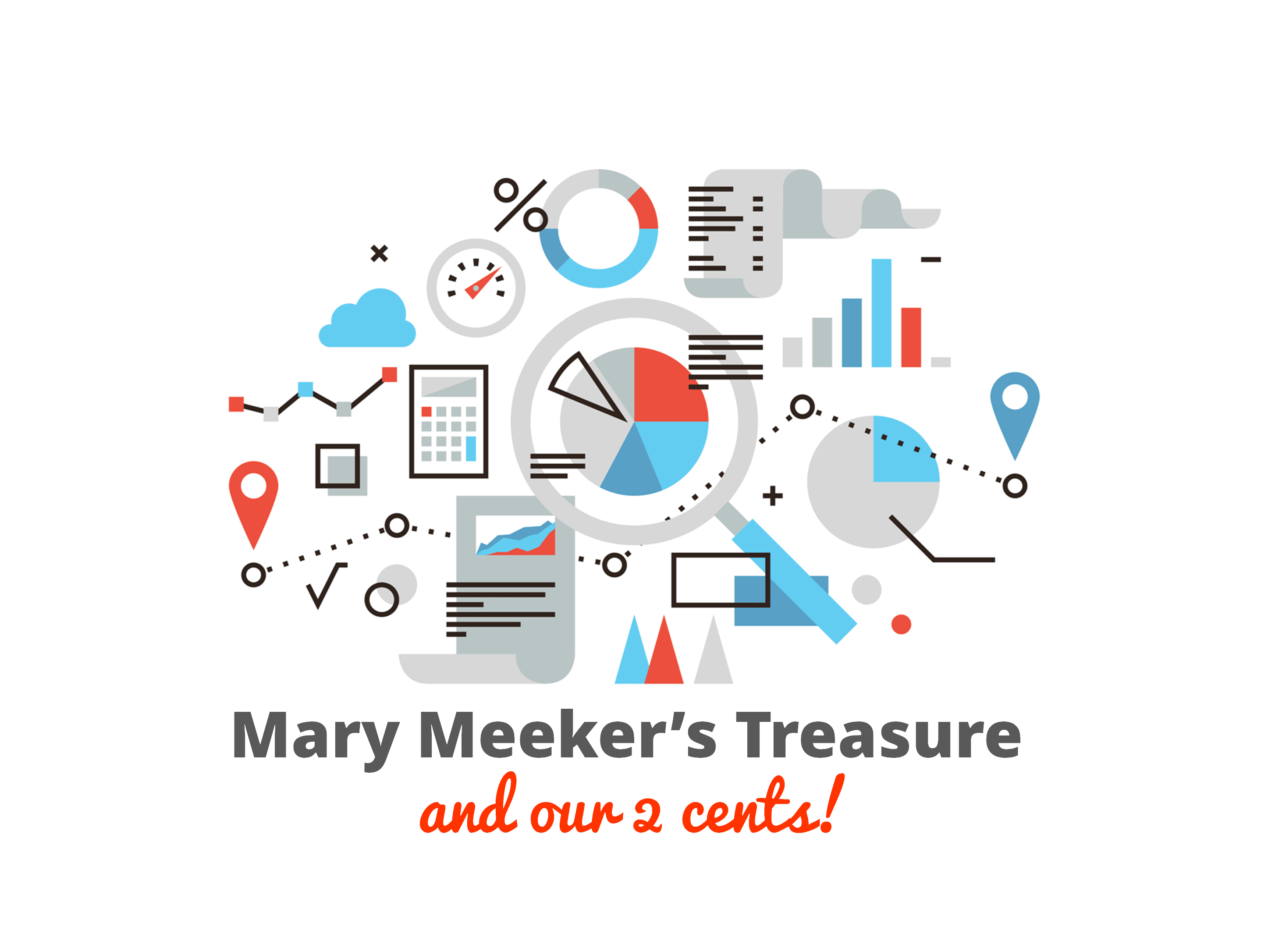 The 22nd Edition of Mary Meeker's exhaustive and deeply educative learnings on all-things-Internet was released last week awaiting much anticipation. Steeped in the latest, most relevant statistics, it brings the digital world across the globe the most incredibly detailed insights into the key wins and losses of the year and what is working and not. Quite often, one finds major internet-based firms modifying their decisions and thoughts after the release of the Meeker's influential, game-changing annual report. This blog is our take and learnings from Ms. Meeker's report, and our perspective on the digital advertising industry.
What we learned from this edition:
The world is flatter than ever before, and so is the internet. Everyone has a smartphone but advertisers aren't capitalizing on the opportunities enough. Privacy needs to be better regulated, while search will further disrupt and innovate. Messaging apps are to flourish, and payment systems and games continue to gain massive momentum. Google is still king and Tesla is the biggest innovator.
Let's break this down now, shall we?
What would be the outcome of the market consolidation with the internet slowing down? The revenue from internet advertising has grown to thrice of what is being spent on television, and radio advertising is dilapidating by the day. Internet adoption rates are faltering, with almost half of the world's population already online – think about it – everyone from a 4 year old child to a 85 year old grandparent is online – to Skype, to learn, to watch movies on Youtube, although mainly in High Income countries.
One-third of all internet ads are on mobile one sees the traditional advertiser still being cautious about their financial attentions online. The consumer is more in front of a portable device instead of the television, and the opportunity for advertisers is manifold, and strangely, quite untapped.
Video viewership has grown multi-fold, though the new auto-play is looking at harsh reviews and their effectiveness is being questioned. Sharing data, however, is unparalleled. We find Youtube ads being channeled and noting amazing improvements on click-through rates.
Closer to home, we see apps being flooded across the market, though as performance marketing professionals we experience the industry to be spending far lesser than it should. 'Be where your customer is' is not really playing the big role yet. From the E-Commerce perspective, with Google and A.T. Kearney on their latest report are rooting for over 25% of all organized worldwide retail being turned to digital by 2020, a gloriously massive number, and advertisers would be wise to pay more heed to building visibility and content for handheld devices and advertise accordingly, earlier the better.
Google and Facebook control 76% of the markets, and voice-activated apps and tasks are becoming the trend for smartphone users with better accuracy by the version. Instagram ads are seeing amazing traction for being purely mobile-centric (read our blog on Instagram ads), and Twitter and Google are experimenting with carousel ads with a cue from Facebook.
Tesla and Google self-drive have the world sitting up in extreme excitement, while Google Alphabet is fascinating. Uber is here to stay, and growth is being fuelled into digital, and non-tech giants are acquiring mainstream technology players. I have to mention that the impact of all of this has added to the job economy, with hundreds of millions of jobs being created across the globe, while we also see many losing their roles to perfectly-tuned robots.
Personal data is not personal anymore. Apps capture all the data on one's phone – contacts, messages, pictures, even phone and camera. Contextual information is used by companies to use psychographically. Our persona-mapping tools generate high levels of conversions for product ads (for Google Shopping and Facebook DPA).
Inconsistent privacy regulations are being questioned and fought, though a layman is not allowing his privacy concerns to stop his stimulated, unplanned purchase of that expensive cashmere. The work lies with data protection and management platforms, enabling users to secure and control their data.
Telling a story with a photograph is all the rage. Vanity has fuelled much growth in the massive consumption of data daily, with Facebook, Instagram, Pinterest and Snapchat ruling the roost and a plethora of other options for every need and interest. Information is widely, and often freely available. Brands and products are born at crescendos, and downfalls are equally renowned and quickly forgotten. Performance and efficiency is demanded.
Thought leadership attracts trust and dependence, adding value to the product or service. China leads from the front. Loyalty is hard-earned and deserved when consumers are being cautious, vocal and intelligent, and word spreads like wildfire like never before.
At OnlineSales.ai, we find every shopper online has made an average 1.2 purchases this past (JFM) quarter 2016.  Whether you are a buyer, a seller, or help sell, this report has a takeaway for you.
The closure of the report sums it up and shakes it up:
 'In the tangible world, physical limitations prevent the broad abuse of the law…Should the same laws automatically apply to the digital world where a few lines of code can unlock someone's entire life?' Touché.
Find the entire Meeker report here or watch Ms. Meeker present highlights of the report at the Code Conference.
The Google + Kearney report is here. Our own quarterly report on Indian E-Commerce trends for JFM 2016 is here.
Related Posts:
Current E-Commerce Advertising Trends You Should Adopt!
Industry Report: Google Shopping Trends in India