Track Your Store's Overall Health with the Hygiene Dashboard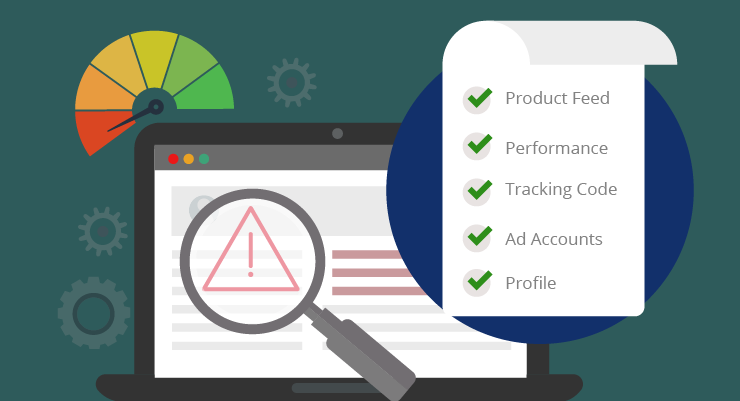 Introducing the all new Hygiene Dashboard that will allow you to track and fix all the critical issues related to your store's performance, product feed, funnel tracking and profile from a single place.
What does it solve?
Just like your car functions smoothly with the help of various components i.e. a powerful engine, good suspension, a charged battery and tires with excellent grip.
Your online store's marketing functions smoothly with the help of various components i.e. a good quality product feed, amazing user experience, accurate analytics and ad accounts.
If anything were to go wrong with your car, your car dashboard would tell you precisely which component is malfunctioning so that you can get it repaired.
But do you have a dashboard that communicates the same for the performance of your online store?
This is one of the most common use-cases we've come across while collecting feedback from our clients, that it is extremely time-consuming and difficult for them to find the root cause of a sudden performance dip and fix it.
Well, not anymore. We've worked on the feedback given by you and designed the Hygiene Dashboard that allows you to do just that.
How does it work?
The Hygiene Dashboard alerts you on the following issues related to your online store:
Product Feed Hygiene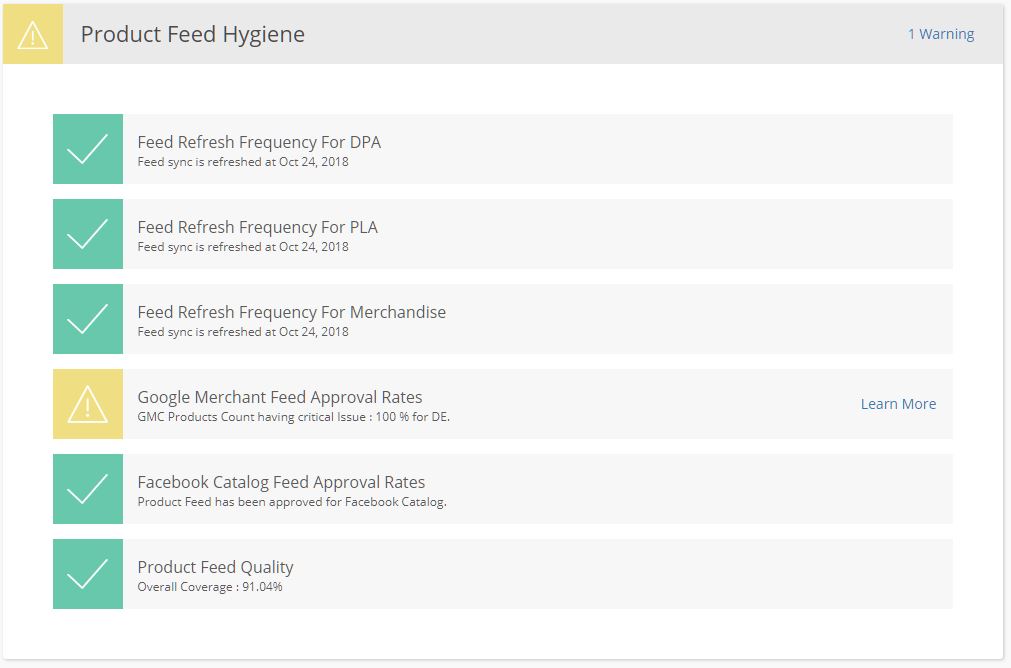 This section will allow you to keep a close check on the feed refresh frequency, approval rates and quality of your Merchandise, Google Shopping and Facebook feed.
Feed refresh frequency: You also have the option to initiate a product feed sync, in case your product feed hasn't been refreshed for more than 24 hours.
GMC Feed approval rate: It gives you the approval rate of your GMC product feed and also helps you identify the cause of product disapproval.
Feed quality: Product feed quality plays a crucial role in the performance of your Shopping Ads. You can now discover opportunities easily to boost your feed quality on Google.
Performance Hygiene

Here you can quickly check how many performance optimizations by OnlineSales.ai have expired, accepted or rejected by you in the last 7 days.
If you wish to auto-accept the optimizations by OnlineSales.ai, you can turn on the auto-pilot mode on from here.
Pixel Hygiene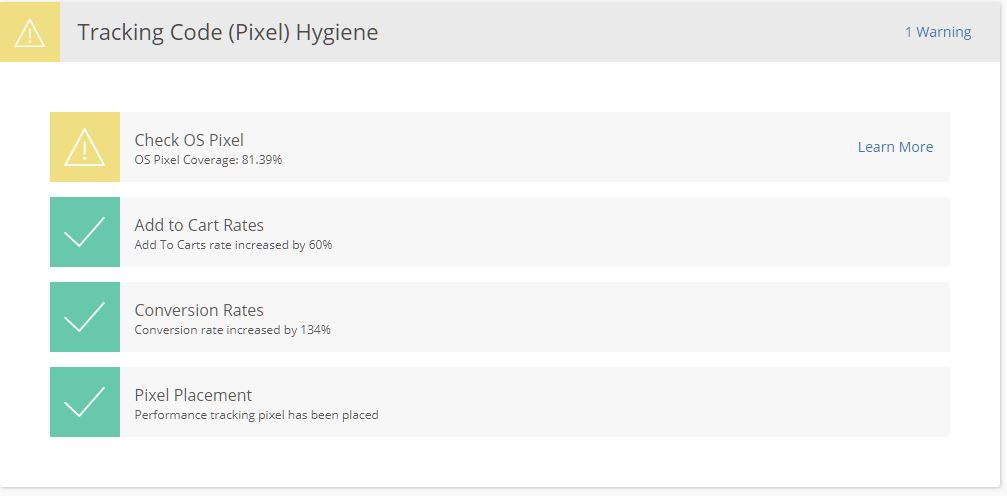 This section allows you to check if your funnel tracking and performance pixel have been placed correctly on your website and also gives you an overview on your Add to Cart and Conversion Rates.
You can use this information to optimize your sales funnel and check out experience to drive more conversions.
Ad Accounts Hygiene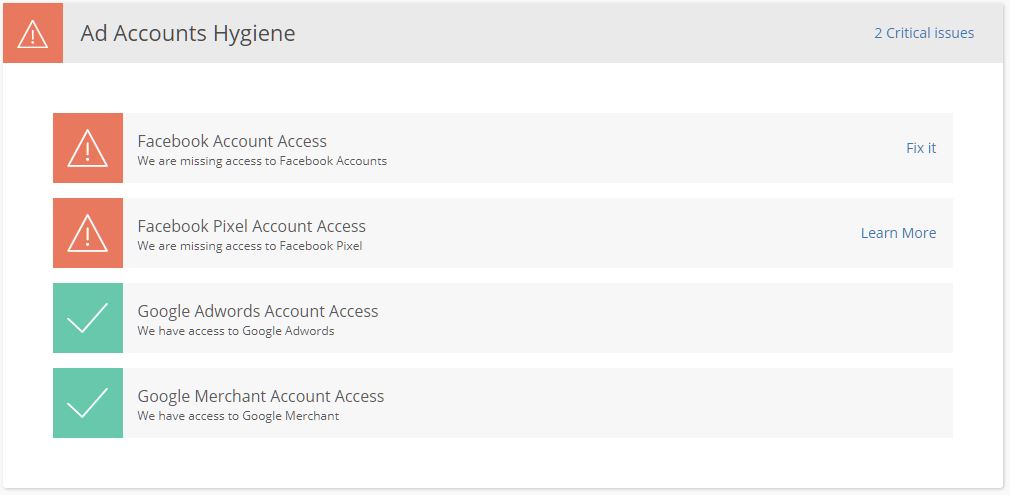 To optimize your ads, one of the most important things we require from you is access to your ad accounts. You can use this section to ensure that OnlineSales.ai has proper access to your ad accounts all the time.
Profile Hygiene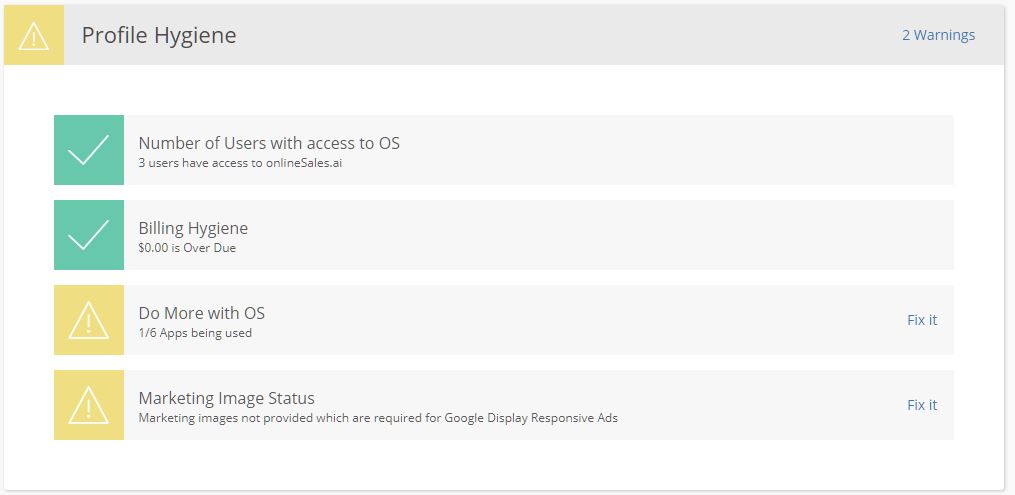 You can use this section to get a quick overview of your OnlineSales.ai profile.
It will show you how many users have access to your OS account, your payment status, ad creative availability for Google Display Responsive Ads and your current subscription status for all our products.
Who gets it?
Hygiene Dashboard is available for all OnlineSales.ai customers. Hooray!