Insights - Anytime, Anywhere.
See Your Customers Through Data.
Sofie seamlessly integrates with Acquire to give you Smart Insights across marketing channels, merchandise and more.
Insights - Anytime, Anywhere.
Track What Matters the Most
Clear the clutter with irrelevant data and analytics. Sofie captures the most important microinteractions of the user like Orders, Revenue, New buyers, Cart Abandonments & More.
Cross-Channel Analytics
Sofie's powerful analytics engine delivers insights, not metrics. With cross-channel analysis of ads and more, Sofie delivers a powerful set of features that truly make the marketer a Hero.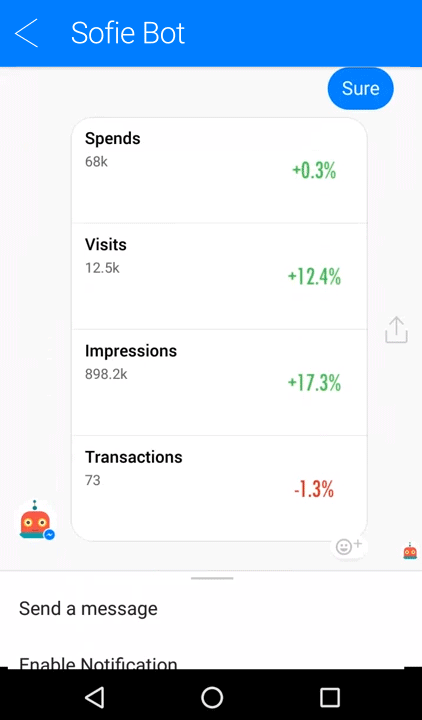 Your Data, at Your Fingertips.
See your key metrics quickly. Apply segments to dig deeper into your data. Quickly get to custom reports and save them to your Acquire dashboard.
Real-Time Performance Alerts
Get the true power of AI-Driven Analytics with real-time insights stacked up against your marketing goals.
Track Your Success. Anytime, Anywhere.
Sofie's powerful tracking & analytics is built right into your favorite messenger, Facebook. Easily access Sofie on your phone or desktop. All you need is a Facebook Account!
Don't Just Acquire. Retain Your Customer.