Google Search Ads
Find the Shoppers Who Are Looking for You
Optimize Your Google Search Campaigns to Deliver Relevant Information to the the Right People at the Right Time.
Automated Keyword Optimizations
Save time and money with automatic Negative & Positive Keyword optimizers built inside. The platform uses AI & Machine Learning to help you identify the keywords which are draining your budgets as well as those which will help you boost your ROI.
Smart Keyword Bidding
Experience the power of AI with 50+ optimizers aiming to get the best possible ROI for your marketing dollars. With OnlineSales.ai you're bids are changed and optimized on keyword level to give you the best possible ROI.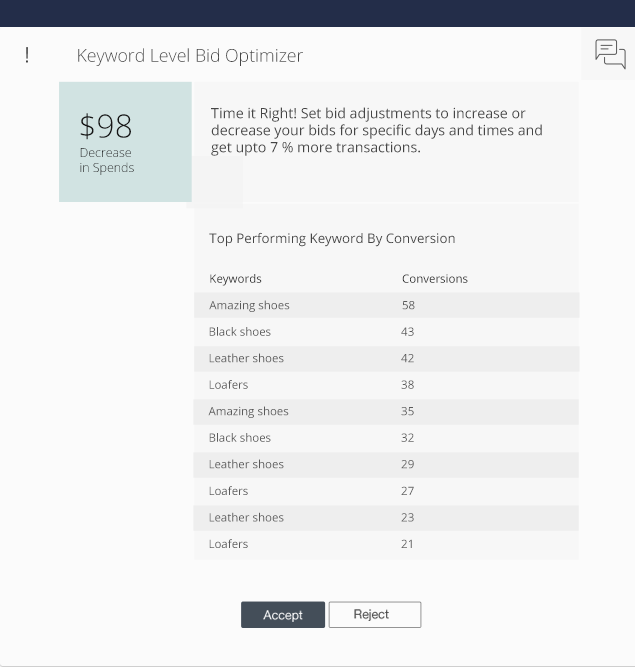 Auto-Generated Ad Copies
OnlineSales.ai auto generates highly relevant Ad Groups and Ad copies for your Google Search campaigns. Say goodbye to hours wasted in creating relevant ad copies & low quality ad scores.
High Intent Keyword Generation
Generating keywords like "Black T-Shirts" or "Sport Shoes" is easy. OnlineSales.ai takes this further by generating long tail or high intent keywords for your ads. For example: "Zara Black Collared T-shirt" is an extremely high intent keyword. The user knows what he wants and is ready to make the purchase. OnlineSales.ai creates such High Intent keywords with 1-Click as well as creates the respective ad copy for it. Keywords like these have low bids and also convert the fastest.
Automated Keyword Clusters
OnlineSales.ai automatically segments your audience on the basis of demographics, interest & product affinity etc. It uses this information to create relevant campaigns and ad groups so you get closer to your ROI goals.
OnlineSales.ai drives jaw-dropping results on Google Ads
Increase in Conversion Rate
Reduction in Cost per Lead