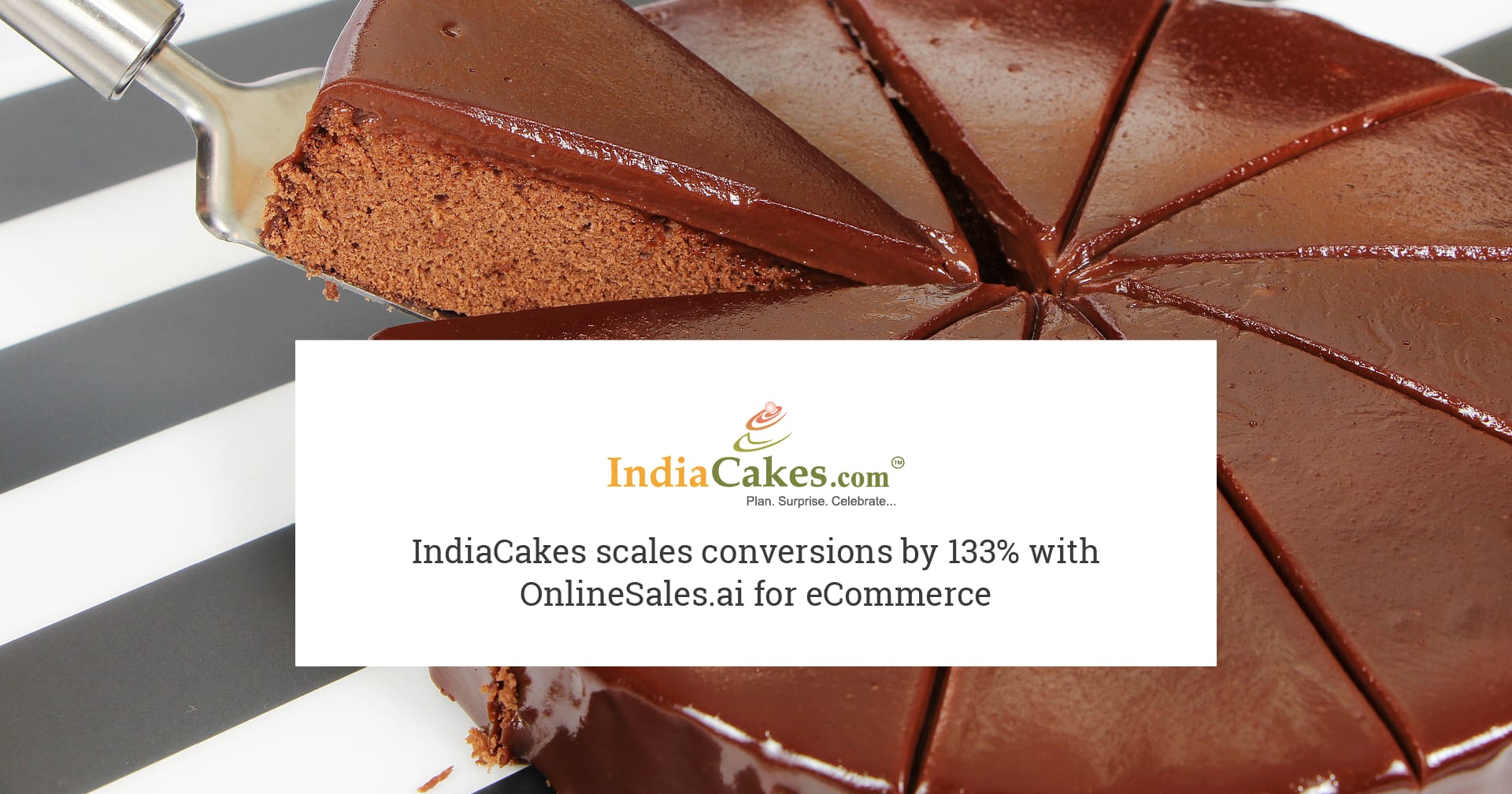 Indiacakes.com is a cake manufacturing company featuring premium quality, frozen, fully finished packaged cake products for the Food Service, Catering, C-store and In-Store Bakery.We specialize in creating unique, and custom, high-quality, finished cakes for a variety of operators that are not generally found in ready-to-sell formats.
Key Goals
IndiaCakes.com is a confectionery manufacturing company featuring premium quality, custom, frozen, fully finished packaged cake products, serving through Food Services, Catering, C-store and In-Store Bakery. Online since 2004, with an established dealer and supplier network, and due to their deep-rooted forward and backward integration, they've managed to be trendsetters for an online gifting audience globally.
IndiaCakes on-boarded with OnlineSales.ai OMP in July 2016 to scale conversions. A veteran in the industry, they aimed to conquer Google's search results pages. OnlineSales.ai ensures that, as the number of conversions increase, their corresponding CPLs always remain healthy. Ideally, a healthy CPL number is that which is lower than the AOV of the product catalogue, and we continue to deliver this successfully.
The Approach
Scale Competition
In the highly competitive gifting industry, they wanted to reach out to a relevant audience and leave a mark.
Diversified Geo
IndiaCakes delivers products across India. They also wanted to target Indians living in countries across the globe, to enable delivery of gifts to loved ones in India. Hence, apart than targeting deep inside India, we target relevant audiences across USA, Australia, UAE, Malaysia, UK, Canada, Saudi Arabia, Germany and Singapore
Positive ROAS
IndiaCakes opted for OnlineSales.ai OMP to increase their ROAS from across Google
The Solution
The marketing activities were carried out in the following phases.
Branding
Since our brand name itself has a generic keyword for cakes online, our primary objective was to cater to both types of audiences – searching with both generic as well as brand-specific keywords. Informative ad copies mapped to relevant audiences improved engagement. User Intent
With OnlineSales.ai's set of optimizers, best performing keywords were identified and were bid aggressively upon.
Location-wise
A strict location-specific campaign structure with respective keywords helped to cover the nooks of India with Google Search.
Remarketing
Every chance to engage a prospect was acted upon by aggressively using RLSA.
Device level
We ran special mobile-specific campaigns for better targeting optimised for conversion.
All these were done with a 98% increase in spends between July to December 2016, and the team at OnlineSales.ai continued to maintain healthy CPLs, CPCs and other vital performance metrics while scaling conversions.
The Key Wins
Reduction in Cost per Lead
The Testimonials
"
OnlineSales.ai's one marketing platform with its intelligent features helped us to optimize our Google ad campaigns in a very smart way and guided us to achieve our targets in no time. Their Customer Success team was always helpful and very responsive.
"