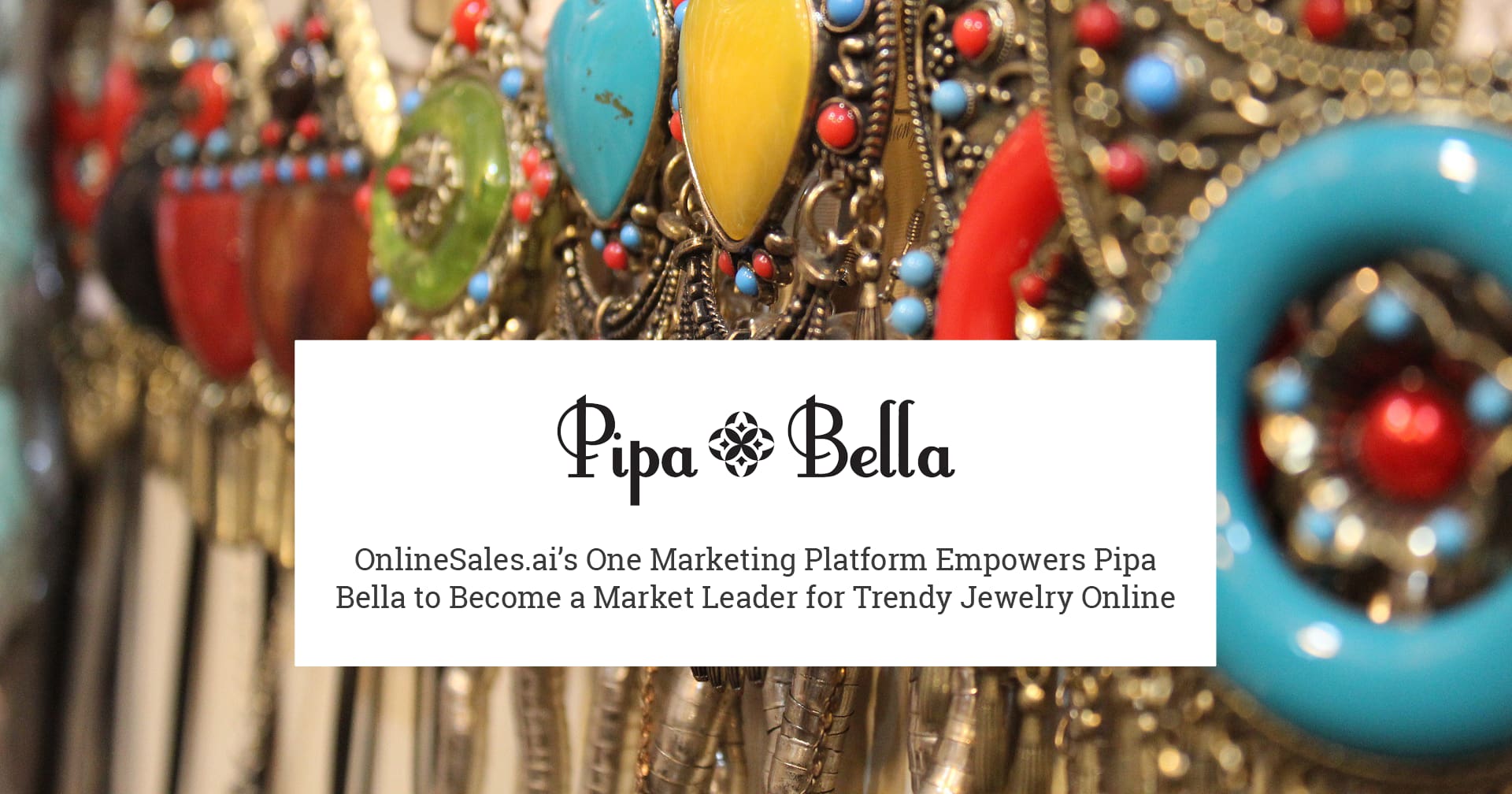 Pipa Bella is your ultimate fashion jewelry destination in India and South East Asia, selling necklaces, earrings, bracelets, rings, personalized charms, and metallic tattoos. Our products are on-trend, affordable, with an utmost focus on quality.
The Goals
Pipa Bella needed to captivate the super-busy, digitally savvy modern working woman in Tier-1 cities, who have multiple options to purchase jewelry online. Pipa Bella also needed to boost purchases across all 1000+ SKUs without leveraging lucrative purchasing triggers like hefty discounts etc.
Prior to OnlineSales.ai, Pipa Bella had experimented managing campaigns manually and with other partners, failing to achieve goals, and that simultaneously exposed them to unintelligent risks like: spray and pray methods, excessive burn of ad spend, lack of transparency in methods etc.
The Approach
Pipa Bella onboarded on OnlineSales.ai's One Marketing Platform with a single-minded agenda: they wished to scale and grow efficiently within limited budgets – a typical problem for every growing eCommerce player in the market today. OnlineSales.ai's OMP started optimizing on a cross-channel strategy – Google Search, PLA, Remarketing, Facebook Ads, DPA, and Instagram Ads. Ad spend were increased month-on-month while maintaining high-AOV transactions, at 40% reduced CPLs. This led to 2X growth within a few short months.
The Solution
OnlineSales.ai's platform discovered every product's metadata including inventory,price, margins, variations, popularity etc., all real-time. This ensured amazing relevancy in promoting each Product SKU at scale, while acquiring new audiences on a daily basis.
The platform further instrumented every user action – like price sorts, time per product, affinity, etc. to build user profiles and mapped it to relevant product clusters. Showing the right product with the right messaging to the best-fit persona buckets which increased favourable response rates.
OnlineSales.ai's platform went beyond traditional metrics like CPCs and CTRs, optimizing for what matters most – a combination of New Buyers, Transactions and Margins. OnlineSales.ai's One Marketing Platform met the business goals and optimized them automatically across channels, accomplishing every action at speed and scale.
The Key Wins
Growth in limited Time and Budget
The Testimonials
"
We effectively leveraged OnlineSales.ai's One Marketing Platform to meet our goal of growing new acquisitions and repeat buyers with limited investments, while maintaining a high AOV. OnlineSales.ai has already over-delivered on our goals, something we have not witnessed while working with other partner agencies.
"